The secret to a great Paella is in the sofrito
The mistake most beginners make is they skimp on the sofrito ingredients and think it is only the seafood and chicken that matters. The majority of the flavor comes from the Olive Oil, Pork, Spices, Peppers, and Tomato that are used in the sofrito. We are not talking about bland tomato rice here! We are talking about rice that bursts with flavor and re-affirms to you why Paella is such a talked about dish!
Recipe Size
We find this recipe to be ideal for a 40cm (16 inch) pan – serves about 9.
Ingredients
10 pieces Split Chicken Wings or Wing Drumettes
1 Lb Pork Short Ribs (have your butcher cut the ribs into 1″ sections, crosswise cutting the bones)
½ Lb Shrimp (with shells)
3 large Scallops cut in half (or 6 small)
1 Lb Assorted Mussels and Clams
½ to 1 cup Tomate Frito, tomato sauce, or tomato puree.
4 Cloves Garlic (minced or chopped)
3-6 Piquillo Peppers (sliced into strips) plus a few strips reserved to use as garnish
½ cup Peas
1 cup Green Beans (cut into 1″ sections)
1 tsp. Saffron Threads or ¼ to ½ tsp. Powdered
½ cup Extra Virgin Olive Oil
2 cups Paella Rice
4-6 cups Shellfish Broth (recipe below) or substitute Chicken Broth or bouillon.
Salt to taste
Prep Time/ Cook Time
30 minutes preparation, 35 minutes cooking (cooking time may vary depending on the type of burner/stove/oven you are using)
Instructions
To make the shellfish broth:
Boil the mussels and clams in 6 cups of water until the shells start to open. Drain, reserve the liquid, and discard any unopened shells.
For the sofrito:
Add the Olive Oil to the Paella Pan and Sauté the Chicken Wings and Pork for 5-10 minutes under medium-high heat.
Add the Tomate Frito, Piquillo Peppers, and Garlic. Cook for 2-3 minutes more.
Build the Paella:
Add the Rice and stir the mixture to coat, about 1 minute.
Add the Peas, Green Beans, Shrimp, Scallops, and Saffron. Stir under medium heat for 1 minute to incorporate the mixture.
Tip From Yaya's Kitchen:
Be sure to crush the saffron threads to release the flavor before adding. Also keep in mind that saffron releases it's flavor with heat, so be sure to add it while the paella is cooking.
Add the hot Shellfish Broth (recipe is listed above) to the Rice Mixture (add 6 cups if using Bomba Rice, otherwise add 4 cups.)
Tip From Yaya's Kitchen:
From the point of adding the Hot Shellfish Broth and the liquid coming to a boil, the total cooking time to completion of the recipe will be about 15-18 minutes (it may take a few minutes longer for deep pans, if using a small burner/stove, or if using a slow-cooking rice such as Bomba.) Do not stir after this point, and control the heat so the bottom is not scorched.
Add Salt to taste (it is best to add less at first, as the seafood releases salt while cooking.)
Arrange the Mussels, Clams, and the Piquillo Peppers reserved as garnish onto the surface of the paella.
Continue cooking until rice is almost done, but still firm in the center (Al Dente.)
Garnish with lemon wedges and enjoy the best Paella of your life!


Tips for Beginners

Paella is more of an art than a science, so it may take a little practice to be able to make it quickly. These tips may help:

Have your ingredients cleaned, chopped, and measured in individual bowls so that you may add them quickly when the recipe is cooking.
Be sure to use a big enough burner or stove for your pan. Ideally, you wand a medium-low flame that is dispersed over the entire bottom of the pan.
Cooking times are approximate; lower heat = longer cooking time, higher heat = faster cooking time (but at the risk of burning.)
The amount of liquid to add to the rice varies depending on the rice variety and the other ingredients you have added to the paella. When the cooking is half way done, feel free to add a little more liquid to the pan if the rice seems too dry.
If the rice doesn't seem to be cooking properly around the edges because the burner/stove you are using is just a little too small, you may partially cover the edges of the pan to help retain heat and ensure even cooking.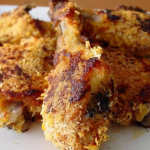 The secret to this chicken is to place the chicken on a large rack over a sheet pan so the chicken sits above the pan and is heated from all sides.
1 chicken, cut into serving pieces
1 ½ cups whole milk
1 TBSP Tabasco sauce
1 TBSP soy sauce
½ cup corn flake crumbs
¼ cup all purpose flour
1 tsp salt
½ tsp freshly ground pepper
½ cup melted butter
½ cup water
Place the chicken in a shallow dish.  Combine milk, Tabasco, and soy sauce and pour over chicken.  Cover and refrigerate at least 3 hours or overnight.
Preheat oven to 375.
Mix dry ingredients together in a shallow bowl.
Remove chicken from marinade, and dip both sides into seasoning mixture.  Place chicken pieces on greased, prepared rack, skin side down.  Place in oven and bake for 10 minutes.  Meanwhile, mix melted butter and warm water.  Baste chicken with this mixture and any pan juices every 5 minutes.  Bake until juices run clear and chicken is golden brown, about 30-45 minutes more.
This chicken is moist, delicious, and a family favorite!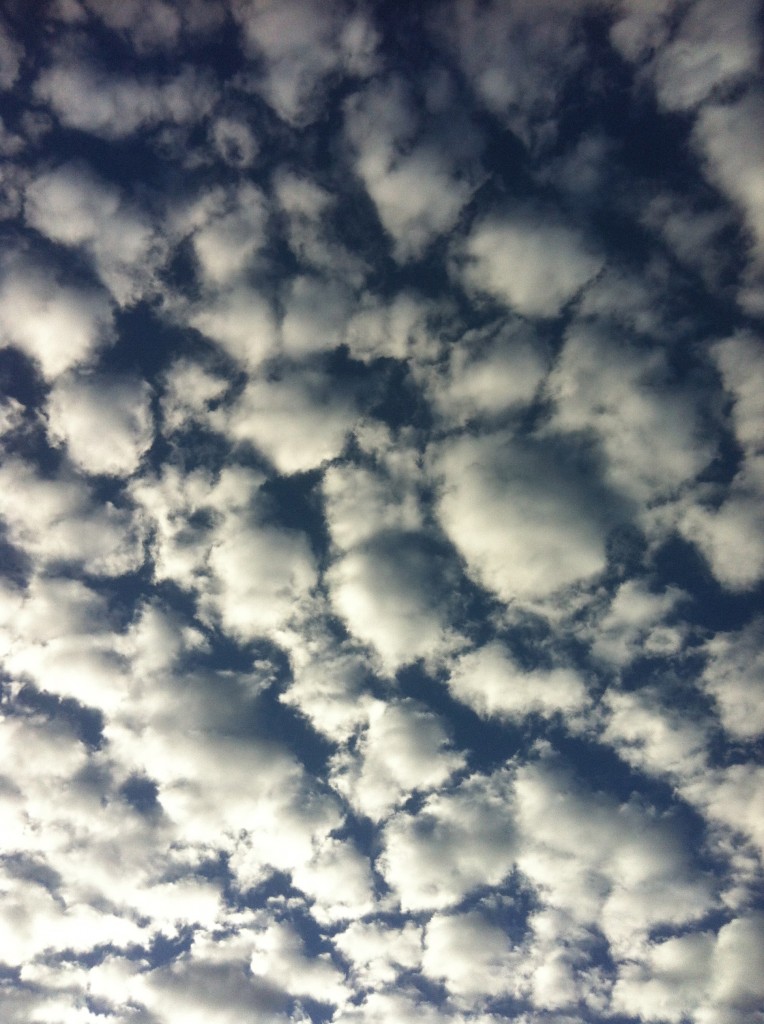 Don't you love an adventure?  It is so much fun to go someplace new!  We have a collection of what we like to call "Secret Spots".  In each newsletter we will let you in on one of our secrets, and we hope you will be inspired to explore them too!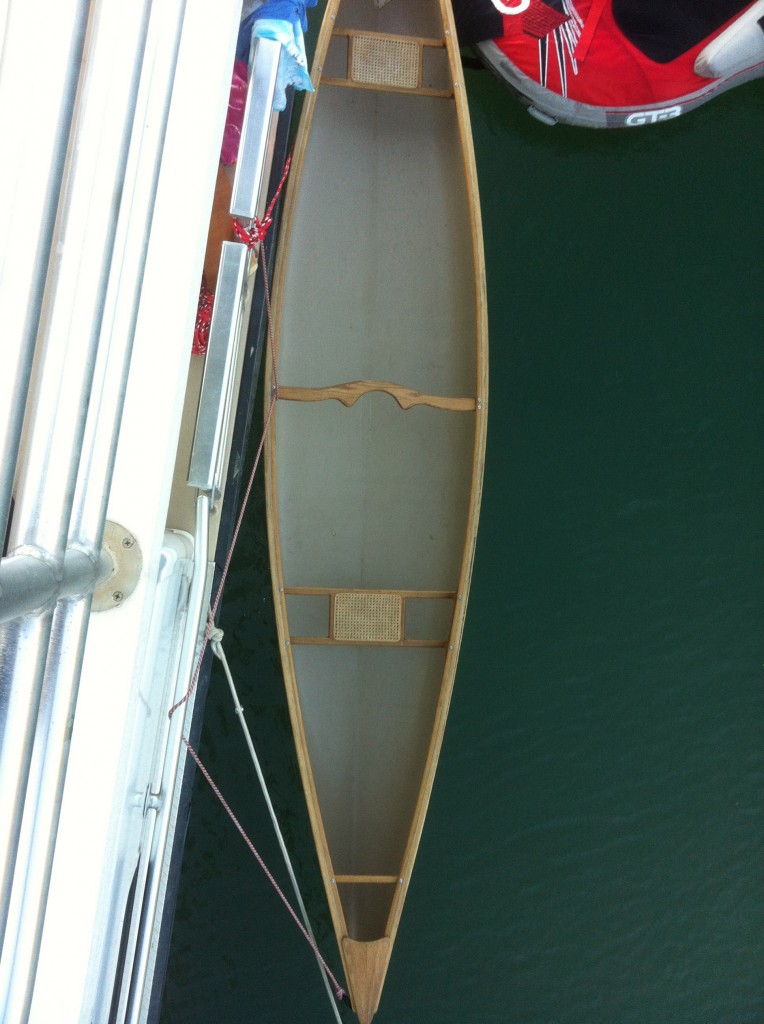 If you have dined in our restaurant, you probably have seen the photographs on the wall in the Taco Lounge.  James and I have enjoyed many hidden gems, and one of my absolute favorites is Lake Faucherie, near Emmigrant Gap in Tahoe National Park.
 It is a very long and slow drive to Faucherie Lake, unpaved and bumpy.  When we went we took my little Jeep Cherokee, and got a flat tire from all the rocks.  There are markers, but I was sure we were lost.  The reward at the end was breathtaking!  The lake is cold and blue, and very private.  There are only 2 group campsites, and great fishing, so I hear.  We chose to paddle the canoe (we had so thankfully brought) out to a small island in the middle of the lake.  Our Golden Retriever almost tipped the boat, but we made it intact.  We set up camp on our own personal island, and that was our home for the night.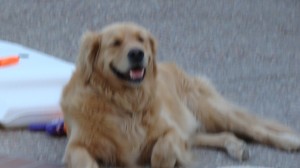 We stayed for two secluded nights, and I promise it seemed as if we were the only two people there.  There were millions of stars!
There is a waterfall, Faucherie Lake Falls, that is about 30 ft. high, dropping into a beautiful deep pool, great for swimming in the summer. This is an adventure worth the effort!
We are so excited to be growing our Denica's family with our fourth location, opening this November in our hometown of Castro Valley!  This town is where James and I both grew up, met, fell in love, and started our business.  The location is 60% larger than our other 3 locations, with a big kitchen and lots of seats.  We will have our signature train table for the kiddos!  Thank you for your warm welcome, CV!
Kale is the superfood we love to eat!  Try this yummy power packed green at one of our cafes.  It's veggie-centric…loaded with lots of good organic freshness like avocados, cucumber, baby tomatoes, mushrooms….all in our housemade lemon basil vinagrette.
Try these techniques to change your state of awareness, in other words, engage the right side of your brain.  At the very least, they will give you a few minutes of relaxation in our busy lives.  Turn off the phones, the TV, and try this:
Draw Upside Down
This is not about making art, the goal is to muddle your verbal mind by copying a picture that you have turned upside down.  If that feels intimidating, buy a paint by number kit and turn it upside down before completing it.  The inversion of shapes will confuse the left hemisphere of your brain, and you will begin perceiving nameless colors and shapes.  Verbal thinking will slow down, and beauty will emerge from things you have never even noticed.
Open Your Focus
When our eyes are in "sharp focus", our stress responses increase, when they are in soft or open focus, we relax.  Softening your eyes releases the processing of the left brain and turns on the perception of the right.  After reading this paragraph, look up at whatever is in front of you.  Then, without moving your eyes, allow your attention to broaden, taking in everything you see.  Slowly expand your attention to include everything you can hear, smell, feel and taste.  As your focus opens up, you'll stop thinking in words, become more present, and see beauty everywhere.  Research shoes that if we do it consistently, this practice affects the brain like meditation on steroids.  Try it, it works.
Feel the rhythm of life
The right brain learns kinesthetically, through the movement of the body.  If you absolutely won't dance, engage in another activity that requires repetitive, rhythmic action- swimming, drumming, skiing, whirling like a dervish.  I've felt this transform my perceptions while running, rowing, pulling weeds…