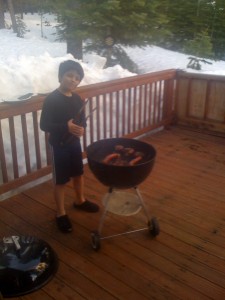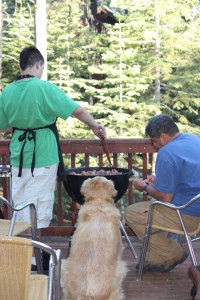 I was sad to discover that grilling with propane is healthier than grilling with charcoal.  We have recently rediscovered our love for good old briquettes and the flavor they give food when cooking over them.  So alas, it is time to shop for a new propane unit, as our old one has died from excessive use and has been overhauled two times too many.
The reason that charcoal is bad for us is that two carcinogens are created when meat is grilled- PAH and HCA.  PAH results when meat absorbs smoke, and HCA are found in the char when mats are overcooked.
Man! I love that charring!  Dad, I guess you were right.  I am sorry I didn't believe you, but it seemed that growing up you blamed too many things with being the cause of cancer.  All the yummy things that kids like, hot dogs, red dye in those candies and cherries…Plus the no sugar as first or second ingredient rule in cereal…fruits and veggies only after 4 o'clock…but I digress.
Dad was right.  Charcoal produced more smoke than propane as well as higher heat, resulting in more carcinogens in grilled meats.  Solution:  Whenever possible, grill with propane.  Trim fat from meats, then marinate in vinegar or lemon juice,  Leaner meats create fewer drippings, which reduced smoke, and marinating in vinegar or lemon juice reduces the HCS by up to 90%.
By the way, thank you Dad, for instilling in me the knowledge of healthy eating.  You are my hero, still going strong, your batteries like the energizer bunny commercial.  I model my self after you, never stop moving!
This is one of my absolute favorite pastas.  I love any dish that gives me the chance to have artichokes!
1 9 oz. Package frozen artichoke quarters
4 tbsp. Olive oil, extra virgin
4 oz. Sliced mushrooms
6 large cloves garlic, crushed or minced
1 med. Shallot, minced
2 cups heavy cream
1 lb. Fresh or dried linguine
salt and pepper to taste
½ cup freshly grated Parmesan cheese (plus more for the table)
¼ cup minced fresh parsley
½ cup toasted slivered almonds
1. Cook frozen artichoke hearts by simmering in salted water for 5-7 minutes, until tender.  Drain and set aside.
2. Heat the olive oil in a sauté pan over medium high heat.  Add mushrooms, salt and pepper and sauté until tender, about 3 minutes.  Add the shallots and garlic and continue cooking another 3–4 minutes until shallots are wilted and mushrooms are lightly browned.  Remove to a bowl and set aside.
3. Heat the heavy cream in a shallow sauté pan, reducing slightly to thicken.  Season to taste with salt a pepper.
4. Bring a large pot of salted water to boil and cook pasta until al dente, according to package directions.  Drain pasta.
5. Add artichokes and mushroom mixture to the heavy cream.  Toss lightly into pasta along with the Parmesan cheese, parsley and almonds.  Serve immediately with a generous bowl of additional Parmesan cheese for garnish.
Serves 4 as a main dish or 6 as a side dish serving.
This is SOOO yummy and comforting, even the kids loved it.
Broccoli Mac and Cheese Gratin
4 cups uncooked medium seashell pasta (about 12 ounces)
6 cups broccoli florets (about 1 pound)
1 tablespoon olive oil, divided
2 garlic cloves, minced
1/3 cup finely chopped onion
3 3/4 cups 1% low-fat milk, divided
1/3 cup all-purpose flour
1 cup grated fontina cheese
1/2 cup freshly grated Parmesan cheese
1 1/4 teaspoons salt
1/4 teaspoon freshly ground black pepper
1/8 teaspoon ground cayenne
Dash of ground nutmeg
Cooking spray
2 (1-ounce) slices French or sourdough bread
Preheat oven to 400°.
Cook pasta in boiling water 8 minutes; add broccoli. Cook 3 minutes or until pasta is done. Drain.
Heat 2 teaspoons oil in a Dutch oven over medium heat. Add garlic to pan; cook 45 seconds. Transfer garlic mixture to a small bowl; set aside.
Add remaining 1-teaspoon oil to pan; stir in onion. Cook 1 minute, stirring frequently. Remove from heat; stir in 3 cups milk. Lightly spoon flour into a dry measuring cup; level with a knife. Combine the remaining 3/4 cup milk and flour in a small bowl, stirring with a whisk. Add flour mixture to onion mixture. Return pan to medium-high heat, stirring constantly with a whisk; bring to a boil. Cook 1 minute or until thick, stirring constantly with a whisk. Remove from heat; stir in the cheeses, salt, black pepper, red pepper, and nutmeg. Add pasta mixture to milk mixture, tossing gently to coat. Pour mixture into a 13 x 9-inch baking dish coated with cooking spray.
Combine garlic mixture and bread in a food processor; pulse 15 times or until fine crumbs measure 1 cup. Sprinkle breadcrumb mixture over pasta mixture. Bake at 400° for 18 minutes or until the top is brown.
As you know, we have 3 boys, and most of our outings are aimed at their enjoyment.  On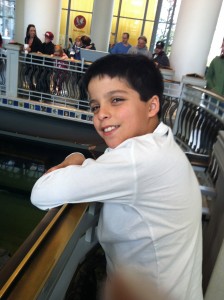 the 4th of July we took a much anticipated trip out to Alameda to visit the USS Hornet.
There was live music, food and games for the kids, as well as a flight simulator ride and a tour below deck.  The USS Hornet is an aircraft carrier that has seen a lot of action, and we really enjoyed the tour.  They had a dozen or so planes and helicopters on display, including one that was flown in the movie Top Gun.  The highlight for the boys was sitting in the captain's chair when we reached the top deck.
They have a lot of different functions throughout the year, including a Halloween Bash, behind the scene flashlight tours, and even family sleepovers.  We bought the family membership which allows us to go back as many times as we want throughout the year, and free admittance to next year's Independence Day Party.
If you have boys this is definitely a must do outing!
We have the problem as restaurant owners of having a difficult time disengaging and turning it off, so to speak.  It is virtually impossible for us to take a day off during the week, and any day that we take "off", if we are in town, we inevitably end up coming in to the café, making sure all are present, that we are not out of sour cream, that there are enough quarters in the register, that the coffee is hot and the soda cold…the list goes on.
     Last week James and I were at that point of "WENEEDTOGETAWAY!".  The first thing that came to mind is Big Sur, one of our most favorite spots on the planet.  Our usual haunt, Big Sur Campground and Cabins, was booked, so we were forced to venture outside the familiar…. And discovered a gem.
     Fernwood Resort has campgrounds, tent cabins, a motel, and my favorite, mini cabins.  The cabins were almost brand new, probably around 1000 sq ft, with a queen bed, fully equipped kitchen, bunk beds, an outdoor fire pit, and best of all…a tub and shower!   With great water pressure!  We stayed in cabin 30, "Chantrelle", and it overlooked a beautiful meadow, with giant redwoods and the babbling Big Sur River just a few feet away.  The river is always cold and refreshing, and the weekend was just what we needed to restore our souls and make it possible for us to keep coming up with new ideas.  As a bonus, it happened to be the Big Sur Marathon, and Highway One was closed for several hours.  I was overjoyed to see the sea of runners whizzing by at 7am,  I may have to run  that race next year!
When you arrive at the Fernwood Campground, located just off of Highway One, below Fernwood Motel, you will be greeted at the "Historic School House" which is now serving as the office.
"You will enjoy any activity in which you are fully present, any activity that is not just a means to an end. It isn't the action you perform that you really enjoy, but the deep sense of aliveness that flows into it. That aliveness is one with who you are. This means that when you enjoy doing something, you are really experiencing the joy of Being…"
(just kidding Mom)
1. My mother taught me about ANTICIPATION … "Just wait until your father gets home."
2. My mother taught me about RECEIVING…"You are going to get it when we get home!"
3. My mother taught me to MEET A CHALLENGE…"What were you thinking? Answer me when I talk to you! Don't talk back to me!"
4. My mother taught me LOGIC…"If you fall out off that swing and break your neck, you're not going to the store with me."
5. My mother taught me MEDICAL SCIENCE…"If you don't stop crossing your eyes, they are going to freeze that way."
6. My mother taught me to THINK AHEAD…"If you don't pass your spelling test, you'll never get a good job."
7. My mother taught me ESP…"Put your sweater on; don't you think I know when you're cold?"
8. My mother taught me HUMOR …"When that lawn mower cuts off your toes, don't come running to me."
9. My mother taught me how to BECOME AN ADULT … "If you don't eat your vegetables, you'll never grow up."
10. My mother taught me about SEX …"How do you think you got here?"
11. My mother taught me about GENETICS…"You're just like your father."
12. My mother taught me about my ROOTS…"Do you think you were born in a barn?"
13. My mother taught me about WISDOM OF AGE…"When you get to be my age, you will understand."
14. And my all-time favorite … JUSTICE…"One day you'll have kids, and I hope they turn out just like you … Then you'll see what it's like."