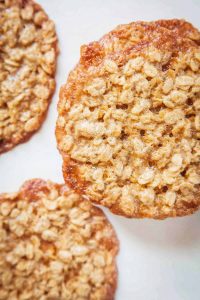 This is one of my favorite, go-to recipes to make at home!  Crispy and chewy and thin, not like what we serve at Denica's Restaurants, but rather late night snacks for us at home!
3/4 pound salted butter (Challenge is our preferred brand)
1 cup packed golden brown sugar
1 1/8 cup granulated sugar  (1/8 cup is equal to 2 TBSP)
1 large egg
2 teaspoons vanilla extract
3 cups rolled oats (not instant)
1 1/2 cups all-purpose flour
3/4 teaspoon kosher salt
2 1/2 teaspoons baking soda
Optional:  Smash some chocolate chips on top before baking (yumm!)
Preheat the oven to 350 degrees F.
In a mixer, cream the butter until soft. Add the sugars, and cream together until light and fluffy. Add the egg and vanilla and mix well.
In a bowl, stir together the oats, flour, salt, and baking soda. Mixing, slowly add the oat mixture to the butter mixture and mix just until combined.
Drop by tablespoonfuls onto the baking sheets, leaving at least 2-inches between cookies. Bake until browned and crispy around the edges, about 8 to 12 minutes. Let cool on trays to continue crisping them up.  Eat immediately, or if you can't then put them in an airtight container.
I like to mix a big batch and scoop them out with a small ice cream scooper, and keep some unbaked dough balls in the freezer for those emergency "I need something sweet!" moments. They can go right from freezer to preheated oven, just allow a couple extra minutes.  I always bake by smell and look, rarely by time~
"The direction of your focus is the direction your life will move. Let yourself move toward what is good, valuable, strong and true." – Ralph Marston
Thinking big forces you to stretch. It engages the part of your mind that is mostly busy at night writing the crazy dreams that we wake up wondering where they came from. The secret is to think big but start small. Everything that exists, no matter how big, started with an idea, a dream, started small. Don't let your big ideas scare you into being paralyzed. Dream as big as your imagination will allow. Write your dream down on paper, keep it in your line of sight, talk about it, think about it. Take the small steps that are the foundation of anything big, and look for the opportunities that are there for you to build that dream into a reality. We become what we think about, and if your dream is kept at the forefront of your awareness, you will begin to notice around you avenues, or doorways, that will lead you one step closer.
I have a dream that my restaurants are not about food, though food is the medium through which we deliver our message. Our message is love. Our message is kindness. Our message is to make our world a better place. It didn't start this way, it has been an evolution for me as a founder, and as I continue to grow and follow my path. It started as a dream, but also from dire need. I needed a way to support my family, and this was what I was good at, what I knew, what I enjoyed.
It evolved quickly, even concurrently, into being about the food. I know what I like, and that means it has to taste really good to me. It has to have the real stuff, no fake formulated food. That continues to be a priority for us and I am non-negotiable on that, ask my husband who continues to pout that I took away his beloved "American Cheese". Not long after we opened I began to fall in love with the connections I was making. For the first time in my life I was comfortable with, thriving actually, when meeting new people. The former wallflower had found her place. The safety of being behind the counter gave me confidence to make friends and talk to people from all walks of life as they came into our business.
This was the zone for many years. I was busy, I had purpose, I was in the mix, my hand in the pot, making it happen from the front lines. Then the question began to get through my thoughts…what else do you want to do? What more? The bigger dream was knocking at the door. This brought the growth of our business from one, to three, now four locations. Now our platform has grown, has multiplied in fact, as we take our message to a broader scale. But it started small. It started with a dream, and the dream continues to grow as the people that are a part of it help to create and propel us. Their dreams feed my dream, and so we grow.
Charming people are generally more successful than their less charming counterparts.  In fact, charm is the single most important quality you can possess if you want to be a leader.  But what is it that charming people do differently than anyone else?  Charming people simply have taught themselves a few skills that anyone can master.
To be more charming…
-Greet everyone you meet as if he were very special.  Do this with strangers and longtime acquaintances alike.
-Be free with a "thank you".   Thank everyone for every reason you can find.  Thank your spouse for listening to your problems, (even if your spouse is the problem!).  Thank your employees for their work, even when they are just doing their job.  Thank the maitre d' for trying to find you a table, even if it was he who lost your reservation in the first place.
-Pay attention.  Listen to people as if you were hanging on to their every word.  Lean forward slightly, nod every minute or two, focus on the speaker's eyes.
-Praise people's efforts.  We have an unquenchable need to be reassured that we are worth of praise.  If you feed this need in people, they will repeat whatever behavior earned them your praise, hoping they will get more.
-Find something to admire.  Compliment something about everyone you meet.  Your compliments don't need to be about big things- sometimes it is more appreciated when we notice the little things that everyone else overlooks, a new pair of earrings, or an interesting tie.
The point of these skills isn't to make us more appealing to others; it's to make the people we meet more appealing to themselves.  Make someone's day, boost their self-esteem, and your own in the process!
The secret to a great Paella is in the sofrito
The mistake most beginners make is they skimp on the sofrito ingredients and think it is only the seafood and chicken that matters. The majority of the flavor comes from the Olive Oil, Pork, Spices, Peppers, and Tomato that are used in the sofrito. We are not talking about bland tomato rice here! We are talking about rice that bursts with flavor and re-affirms to you why Paella is such a talked about dish!
Recipe Size
We find this recipe to be ideal for a 40cm (16 inch) pan – serves about 9.
Ingredients
10 pieces Split Chicken Wings or Wing Drumettes
1 Lb Pork Short Ribs (have your butcher cut the ribs into 1″ sections, crosswise cutting the bones)
½ Lb Shrimp (with shells)
3 large Scallops cut in half (or 6 small)
1 Lb Assorted Mussels and Clams
½ to 1 cup Tomate Frito, tomato sauce, or tomato puree.
4 Cloves Garlic (minced or chopped)
3-6 Piquillo Peppers (sliced into strips) plus a few strips reserved to use as garnish
½ cup Peas
1 cup Green Beans (cut into 1″ sections)
1 tsp. Saffron Threads or ¼ to ½ tsp. Powdered
½ cup Extra Virgin Olive Oil
2 cups Paella Rice
4-6 cups Shellfish Broth (recipe below) or substitute Chicken Broth or bouillon.
Salt to taste
Prep Time/ Cook Time
30 minutes preparation, 35 minutes cooking (cooking time may vary depending on the type of burner/stove/oven you are using)
Instructions
To make the shellfish broth:
Boil the mussels and clams in 6 cups of water until the shells start to open. Drain, reserve the liquid, and discard any unopened shells.
For the sofrito:
Add the Olive Oil to the Paella Pan and Sauté the Chicken Wings and Pork for 5-10 minutes under medium-high heat.
Add the Tomate Frito, Piquillo Peppers, and Garlic. Cook for 2-3 minutes more.
Build the Paella:
Add the Rice and stir the mixture to coat, about 1 minute.
Add the Peas, Green Beans, Shrimp, Scallops, and Saffron. Stir under medium heat for 1 minute to incorporate the mixture.
Tip From Yaya's Kitchen:
Be sure to crush the saffron threads to release the flavor before adding. Also keep in mind that saffron releases it's flavor with heat, so be sure to add it while the paella is cooking.
Add the hot Shellfish Broth (recipe is listed above) to the Rice Mixture (add 6 cups if using Bomba Rice, otherwise add 4 cups.)
Tip From Yaya's Kitchen:
From the point of adding the Hot Shellfish Broth and the liquid coming to a boil, the total cooking time to completion of the recipe will be about 15-18 minutes (it may take a few minutes longer for deep pans, if using a small burner/stove, or if using a slow-cooking rice such as Bomba.) Do not stir after this point, and control the heat so the bottom is not scorched.
Add Salt to taste (it is best to add less at first, as the seafood releases salt while cooking.)
Arrange the Mussels, Clams, and the Piquillo Peppers reserved as garnish onto the surface of the paella.
Continue cooking until rice is almost done, but still firm in the center (Al Dente.)
Garnish with lemon wedges and enjoy the best Paella of your life!


Tips for Beginners

Paella is more of an art than a science, so it may take a little practice to be able to make it quickly. These tips may help:

Have your ingredients cleaned, chopped, and measured in individual bowls so that you may add them quickly when the recipe is cooking.
Be sure to use a big enough burner or stove for your pan. Ideally, you wand a medium-low flame that is dispersed over the entire bottom of the pan.
Cooking times are approximate; lower heat = longer cooking time, higher heat = faster cooking time (but at the risk of burning.)
The amount of liquid to add to the rice varies depending on the rice variety and the other ingredients you have added to the paella. When the cooking is half way done, feel free to add a little more liquid to the pan if the rice seems too dry.
If the rice doesn't seem to be cooking properly around the edges because the burner/stove you are using is just a little too small, you may partially cover the edges of the pan to help retain heat and ensure even cooking.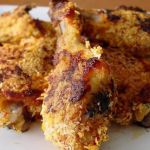 The secret to this chicken is to place the chicken on a large rack over a sheet pan so the chicken sits above the pan and is heated from all sides.
1 chicken, cut into serving pieces
1 ½ cups whole milk
1 TBSP Tabasco sauce
1 TBSP soy sauce
½ cup corn flake crumbs
¼ cup all purpose flour
1 tsp salt
½ tsp freshly ground pepper
½ cup melted butter
½ cup water
Place the chicken in a shallow dish.  Combine milk, Tabasco, and soy sauce and pour over chicken.  Cover and refrigerate at least 3 hours or overnight.
Preheat oven to 375.
Mix dry ingredients together in a shallow bowl.
Remove chicken from marinade, and dip both sides into seasoning mixture.  Place chicken pieces on greased, prepared rack, skin side down.  Place in oven and bake for 10 minutes.  Meanwhile, mix melted butter and warm water.  Baste chicken with this mixture and any pan juices every 5 minutes.  Bake until juices run clear and chicken is golden brown, about 30-45 minutes more.
This chicken is moist, delicious, and a family favorite!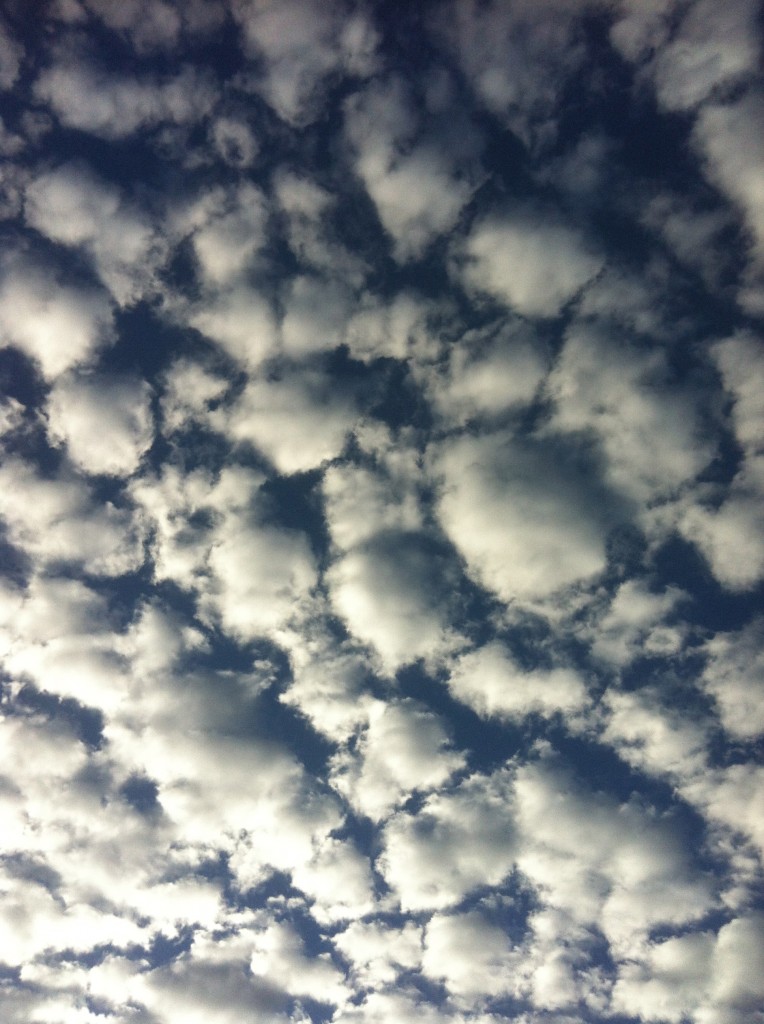 Don't you love an adventure?  It is so much fun to go someplace new!  We have a collection of what we like to call "Secret Spots".  In each newsletter we will let you in on one of our secrets, and we hope you will be inspired to explore them too!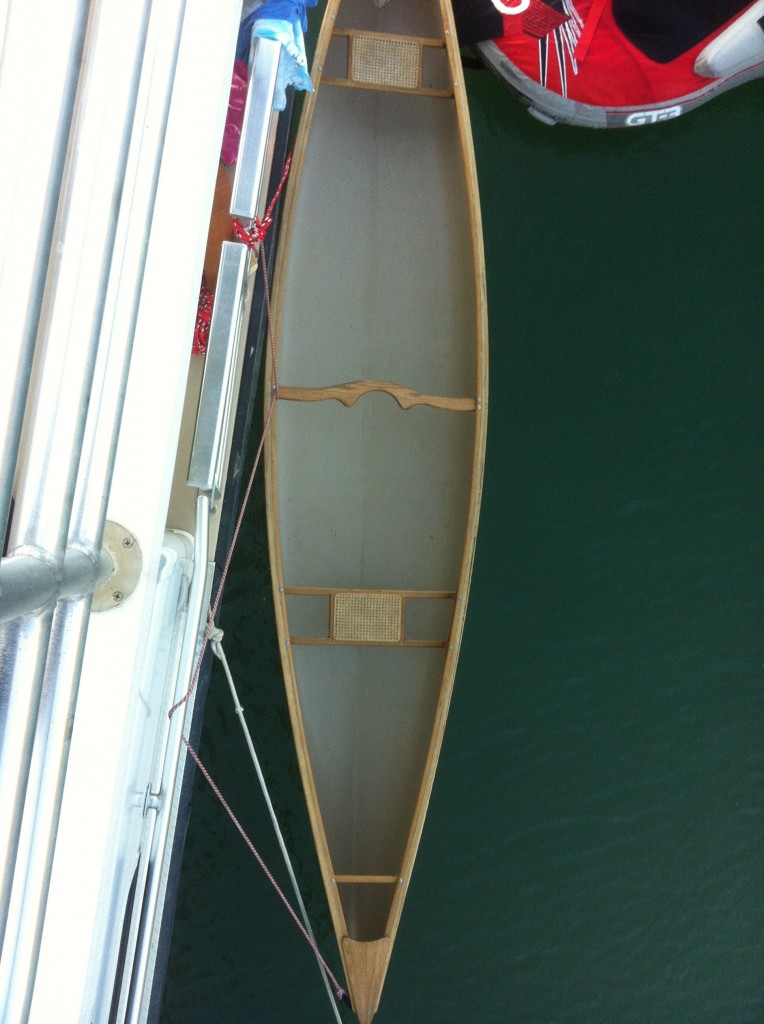 If you have dined in our restaurant, you probably have seen the photographs on the wall in the Taco Lounge.  James and I have enjoyed many hidden gems, and one of my absolute favorites is Lake Faucherie, near Emmigrant Gap in Tahoe National Park.
 It is a very long and slow drive to Faucherie Lake, unpaved and bumpy.  When we went we took my little Jeep Cherokee, and got a flat tire from all the rocks.  There are markers, but I was sure we were lost.  The reward at the end was breathtaking!  The lake is cold and blue, and very private.  There are only 2 group campsites, and great fishing, so I hear.  We chose to paddle the canoe (we had so thankfully brought) out to a small island in the middle of the lake.  Our Golden Retriever almost tipped the boat, but we made it intact.  We set up camp on our own personal island, and that was our home for the night.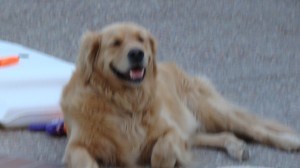 We stayed for two secluded nights, and I promise it seemed as if we were the only two people there.  There were millions of stars!
There is a waterfall, Faucherie Lake Falls, that is about 30 ft. high, dropping into a beautiful deep pool, great for swimming in the summer. This is an adventure worth the effort!