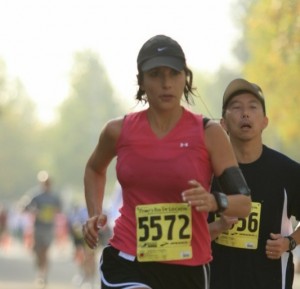 I am 40 years old, and have spent my life, as most women, on a dieting roller coaster.  I have tried them all.  Jenny Craig, Low Carb, Fat Free, Weight Watchers, Low Fat, the Cabbage soup diet, Atkins…you name it.
None of them had ever worked for more than the short term, until I implemented that nasty word "exercise".  I choose now to call it "Staying Active", or "exercising my right to me time".  Much less painful than "exercise", which implies something you have to do, something not fun, with a goal of weight loss or fitness, not personal satisfaction.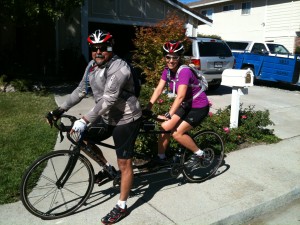 I feel great, better than at any other time in my life, because I make time for me.  I stay active, though many times that couch looks awfully comfy.  I know that the great feeling I get after I "stay active", is better than any thing else.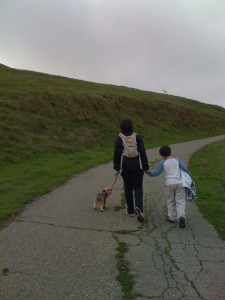 So if I can inspire you, I will try.  I will talk your ear off about my love of running.  Since I began running, I have virtually cured myself of all kinds of ills, from migraines, to mood swings and insomnia.  I eat all the time, more than I did ever before, and maintain my 30 lb weight loss, still indulging in the sweets that I love, the oatmeal chocolate chip cookie, the cranberry scones, and the occasional cinnamon roll.  So that is my fitness story.  I will gain weight if my body wants to, in the meantime, I will keep on running and eating and enjoying life.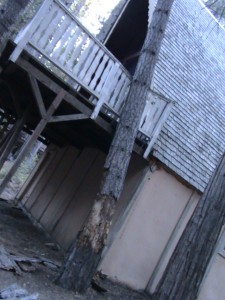 Well here we go again, another September, school back in session, the end of trying to keep the kids from boredom or from beating each up, and back to the bedtime and homework battles.  I have to say I was ready for the routine again.
We have had a fun and eventful summer.  I am blessed that I was able to take quite a little bit of time off to spend with my kids.  I am experiencing an epic school year, with the youngest starting Kindergarten and my oldest starting her Senior year of High School.  It will be a very full year, I predict.
We have been spending the last several weekends at the family cabin, doing some much-needed upkeep.  There are always pine needles to rake away from the cabin, trees to trim, cobwebs to dust…
On one of our last visits we had scheduled to meet with a tree trimmer about one particular tree that was dead and leaning precariously over the cabin.  Unfortunately when we arrived at the cabin, the tree had decided not to wait for the professional tree trimmer and had fallen to a dangerous angle, breaking the deck railing and hanging by a thread.  James broke out his chainsaw and with an audience of our three boys along with our nephew and me with a video camera, finished off that dead tree.  It was really exciting for the boys (and the videographer)  The tree decided to take theentire deck rail with it, thought the floor of the structure survived intact.  Another future project as you can imagine will be rebuilding the deck rail.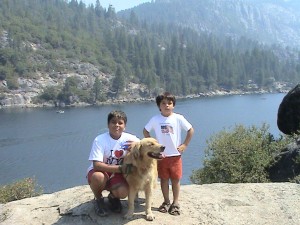 We were surprised and impressed by the stamina of our boys a couple of weeks ago.  Instead of our usual trip to the lake to play on the beach (Pinecrest Lake), we took them on a hike around the perimeter of the lake.  It is a 4 1/2 mile hike, and we made it with only one episode of tears in an amazing 3 hours.  I know that doesn't sound very fast, but believe me, with three brothers, and two dogs, it was a real accomplishment for us to make it around that lake without injury.  The loop led us right to the snack bar, where we rewarded ourselves with soft serve frosty ice cream cones-so yummy, sweet and cold after the hot, long hike.  Good memories for our kids. That's what we are all about.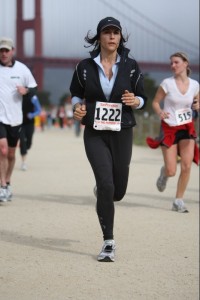 Labor Day marks the change from summer to fall, from vacation to school. It also marks the start of the final lap — the homestretch — in your quest to complete a great year before hitting 2008.
It's like New Year's — a new page and another (yes, another) chance to make a change and do all the things we said we were going to do, but never did.
Labor Day gives you a last chance opportunity to make a dash — a sprint to December 31st, so you can make up for all the things you said you would accomplish last January 1st … but just never got around to doing.
As we enter fall, and it is time to get back on track, both in fitness, business, and personally, I am reminded of a favorite quote from Paul Williams in his book, Das Energi:
"At the depths of despair, nothing matters. I can't do anything, got to get out of here, walls falling in, throw me a rope. I can't move, can't stand it, nothing, throw me a rope …
"Then one day, like any other day, finally tired of waiting for help that never comes, make a rope, tie it to a rock, throw it up, pull yourself out and walk away …"
The message here is simple:
• It's your body — take charge of it.
• It's your business — take charge of it.
• It's your life — take charge of it.
Do you think that doing the things you know need to be done is scary?  That's nothing. Adrenaline is just adrenaline. Whether that looks like "Oh Boy" or "Oh @&*!" is just a matter of attitude. If you really want to be scared, think about what is sure to happen if you don't take action!
As Paul Williams put it, "Stamp out hesitation before it turns into fear!"
It's your life, live it!
We were lucky recently to receive free passes to the Oakland Zoo, which gave us the motivation to check it out.  They have recently re-opened their children's zoo, and it was great!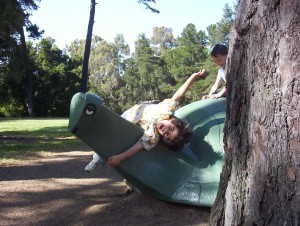 James and I were remembering when we were kids, and they had the giant tortoises in the childrens zoo. In those days it was not at all humane, we used to climb all over those prehistoric creatures!  More recently, in the last couple of years, the zoo had seemed really run down.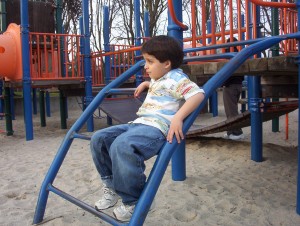 Needless to say, we were pleasantly surprised by the new lower entrance that was added, as well as with the children's area.  The most interesting thing for me was the fruit bat display.  I have never seen these creatures up close, and they were so strange and creepy.  Their wings looked like umbrellas, and their little faces looked like foxes.  Our youngest son Jimmy thought they were really cool, along with the ring-tailed lemurs that reminded him of one of his favorite shows, Zoboomafoo.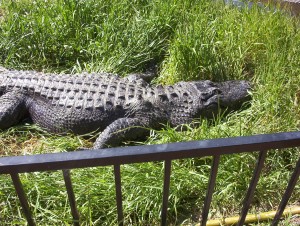 We happened upon feeding time for the giant Komodo Dragon.  His keepers were luring him down from the rocks with snails and giant cockroaches.  I am so glad I am not in the zoo business!  It was disgusting!
There is and indoor reptile and amphibian exhibit that showcases frogs in a dozen different colors, from bright yellow, to red, to spotted green.  We arrived late in the day, and only spent 90 minutes there, but will go back for sure!  Check it out with your family, you will enjoy it.
This summer at the cabin I began reading Tom Sawyer to the boys.  The jargon is a little hard to understand, so I translate to modern English as I go, but the message and adventures are timeless.  From the 5 year old up to the 12 year old, they love the story!   James broke out the bb guns for the first time and Jimmy decided to go native after he had his first experience shooting a soda can.  Lots of fun for the boys!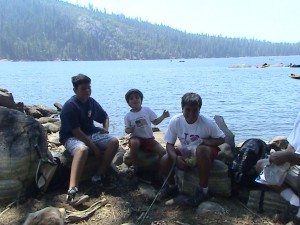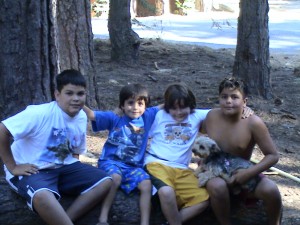 Recently I overheard an older man instructing a younger man in the three stages of dealing with people. He described them as
Telling, Yelling and Asking.
He suggested that we tend to start out telling people what to do. Then, when they don't respond favorably, we yell. When we find that doesn't work, we begin asking. People tend to respond better to asking than telling or yelling. The advice given was to move to the asking stage quickly to save everybody a lot of frustration and grief.
This works with your kids too, believe it or not.
Although this elegant dish is low on calories, the melted Brie-and-onion combination creates a rich-tasting, buttery consistency.
1 teaspoon olive oil, divided
1-1/2 cups sliced onion
4 garlic cloves, thinly sliced
2/3 cup dry white wine, divided
2 ounces Brie, rind removed and cut into small pieces (about 2 T)
1/8 teaspoon salt
1/8 teaspoon pepper
4 (4-oz) skinned, boned chicken breast halves
2 tablespoons minced onion
1 tablespoon chopped fresh or 3/4 teaspoon dried rubbed sage
2 garlic cloves, minced
1 (10-1/2-oz) can low-salt chicken broth
Sage sprigs (optional)
1. Heat 1/2 teaspoon oil in a large nonstick skillet over medium heat. Add sliced onion; sauté 30 minutes or until golden brown. Add sliced garlic; sauté 5 minutes. Stir in 1/3 cup wine; cook 5 minutes or until liquid almost evaporates. Spoon onion mixture into a bowl; let cool. Stir in Brie, salt, and pepper.
2. Cut a horizontal slit through the thickest portion of each chicken breast half to form a pocket. Stuff about 1-1/2 tablespoons of the onion mixture into each pocket.
3. Heat 1/2 teaspoon oil in skillet over medium-high heat. Add chicken; sauté 6 minutes on each side or until chicken is done. Remove chicken from skillet. Set aside; keep warm.
4. Add 1/3 cup wine, minced onion, sage, and minced garlic to skillet. Cook over medium-high heat for 2 minutes. Stir in broth. Bring to a boil, and cook 7 minutes or until reduced to 3/4 cup. Return chicken to skillet; cover and simmer 2 minutes or until thoroughly heated. Serve sauce with chicken. Garnish with fresh sage, if desired.