I really like to write.  It is hard to put the newsletter together, but writing is fun.  With the newsletter, I struggled with the formatting and the pictures and the text boxes and the font sizes…So many of you tell me you loved the newsletter, but alas, I have decided to take the pressure off myself and just write here instead.
I have been interviewing a lot of people for Denica's lately.  We have been super busy and needing more staff, an Ideal Problem.  In the past, I would dread the whole hiring process, the thought of placing the ad and the resulting overflowing inbox would stress me out to such a degree that I would delay it until we were truly desperate.  Now being desperate is not a good place to be in anyone's book, but especially when you are faced with making hiring decisions, when you are choosing the people that are going to represent you in your business.  So much is on the line when we have worked so diligently to build the business, to make service a priority.  One bad day or grouchy attitude can throw all of our hard work down the drain.
So… instead of looking at hiring as one more thing on my long list of things I HAVE to do, I changed my focus.  I decided to approach this whole interviewing thing differently this time.  Guess what?  I am having fun now, and plus, I am making 1000% better hiring decisions!
Instead of setting up face to face interviews from the get go, I have been conducting a phone interview first.  Now maybe this is basic Business 101, but hey, I never took that course!  I have been learning as I go, never really having worked for any large companies in my life, let alone one that wasn't owned by a family member!
The advantages I have determined are:
I'm not wasting the prospect's time by making them get ready and drive in for an appointment if they are not a good fit
There is less stress, nerves, anxiety during the interview because we are on the phone!
People have a tendency to be more open and disclose more insight into their personalities when they are on the phone.
I am less nervous!
I would often get butterflies in my stomach before the interviews, I am still shy I think under all this bravado, and get nervous when meeting new people.   Now by breaking the ice over the phone, I am more comfortable interviewing since we've already "met" over the phone. Win-Win!
1. You will receive a body.
2. You will learn lessons.
You are enrolled in a full time informal school called life.  Each day in this school you will have the opportunity to learn lessons.  You may like the lessons or think them irrelevant and hence choose to ignore them, no matter, keep reading.
3. A lesson is repeated until learned.
A lesson will be presented to you in various forms until you have learned it.  When you have learned it, you can then go on to the next lesson.
4. There are no mistakes, only Lessons.
Growth is a process of trial and error; experimentation.  The "failed" experiments are as much a part of the process as the experiment that ultimately "works".
5. Learning lessons does not end.
6. "There" is no better than "Here".
When your "there" has become a "here" you will simply obtain another "there" that will, again, look better than "here".
7. Others are merely mirrors of you.
You cannot love or hate something about another person unless it reflects to you something you love or hate about yourself.
8. Your answers lie only inside you.
The answers to life's questions lie only inside you.  All you need to do is look, listen, and trust.
9. You will forget all this!
Big Sur is a beautiful coastal area on Highway One, about 30 minutes south of Carmel.  If you haven't experienced this beautiful region, please put it on your list.   Our favorite place to stay with the family is Big Sur Campground and Cabins.  It is underneath some of the most impressive giant redwoods I have seen, right on the Big Sur River.
There are camp sites available to camp or RV in, as well as cabins that are fully equipped with kitchens and fireplaces.  They have a great playground that is always popular with the under 10 crowd, and they rent inner tubes that the kids love to float down the ice cold river. (Somehow, the kids never seem to mind the cold!) Note:  We recommend bringing wetsuits for the comfort of your kids!
Go to the beach and listen to the Ocean, it  will tell you great things
We are changing our name to Denica's Real Food Kitchen to better define our café…no more confusion as to what the heck is a taco lounge and can I order breakfast at this register??
What's New for Breakfast!
Eggs Benedict- homemade Hollandaise makes it better!
California Benedict with avocado- yumm!
Almond Joy Pancakes – need I say more?
French Toast Josephine – named after my Tia Josephina,
sweet just like she was.
Topped with sautéed bananas and our real whipped cream.
Cornmeal Pancakes – Lightly sweet with a little texture!
Owner Biography:  Denica Freitas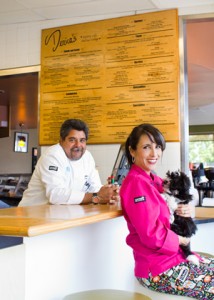 From the time she was a little girl, she dreamed of having a pastry shop.  She became the official baker of the family, and passionately read every cookbook and food magazine she could find.   She is a first generation daughter of immigrants from Spain, and credits her Mother for her cooking and baking talents and both of her parents for her business acumen and work ethic.
Her parents were self made entrepreneurs.  Her Mother owned and operated a bridal shop in the Bay Area, Brides 'n Belles, for 30 years.  Denica worked with her Mother in that business for 10 years, learning the nuances of customer service, employee management, and running a successful business. Her Father owned and operates a successful communication company.   She was involved in her Father's company, where she rounded out her business skills by learning about accounting and business management.  At the age of 25, Denica started taking weekend pastry classes at the California Culinary Academy in San Francisco.  She was offered an opportunity to apprentice with one of the chefs, an alumni of the Ritz Carlton.  Those courses added to her foundation of baking skills, and gave her the confidence to move forward with her dream.  In 1994, she launched an exclusive special order cake business, specializing in elaborate, gourmet wedding and special occasion cakes that were in high demand from San Francisco to San Jose, Livermore to Napa.
In 1999, she joined forces with James Freitas, the visionary, the drive and the love of her life.   They merged their two businesses, Cakes by Denica and Cookie Express.  They moved the creation to Dublin, and in July, 2000, opened Denica's Pastry Café.
Find out more at DenicaFreitas.com
Owner Biography:  James Freitas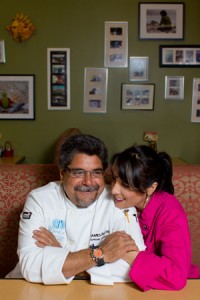 James owned and operated a very successful cookie and coffee store, Cookie Express, in Castro Valley for 12 years.  He featured the same famous cookies that have made Denica's famous, but shipped them nationwide as well as selling them in his storefront bakery.  He is a self taught chef, and dreamed of owning his own restaurant.  He started in the business at the young age of 15 as a busboy.  James had gained invaluable experience along the way, working at many fine restaurants from Lake Tahoe to Maui.   He brought with him the experience necessary to build a restaurant from the ground up (no easy feat).
In 2000, they decided to join our efforts, and realize their dreams together.  With the support of their families, they opened the original Denica's Pastry Café.  The business grew, and opportunity knocked in 2005 when the space next door became available.  They took over the building and added Denica's Taco Lounge.
In keeping with their need to grow, in November of 2006 they added breakfast.  The menu is in keeping with our philosophy-great food, great quality.
Together, they have 5 wonderful children, ages 15-30, and between them and the business, lead a very busy life.  Their personal motto is to dream it, think it, do it.  Repeat.
The real story of James and Denica….
From our first newsletter back in 2007
Well here we are, our first issue!  We are devoting this issue to telling you about us, who we are, where we have been, where we are going…
I am Denica, most of you know me, and if you don't, you certainly know my husband, James.  We are partners in life, love, and in this creation of ours, an ever evolving and deliciously developing restaurant and bakery….
The Cookie Man and The Cake Lady
a sweet tale with a happy ending…
My love of baking began as a youngster when I graduated from the easy-bake oven to making up my own recipes for oatmeal raisin cookies. Being shy, with a love of reading and baking, I began collecting cookbooks and cooking magazines. I would read them cover to cover and dream of the yummy, pretty things I would have in my bakery.
As I reached adulthood, I realized the power of my talent, and decided to pursue my dream. I attended the Pastry Program at the California Culinary Academy in San Francisco, and went on to open a successful specialty cake business," Cakes by Denica". Though I was doing what I loved, I was lonely in my little kitchen, making beautiful elaborate cakes for couples in love.
Along came James. He owned and operated the unique "Cookie Express" in Castro Valley, and was known for his Aloha attire, positive attitude, and quest for adventure. His friends and clientele referred to him as the Cookie Man. He was at the cutting edge of the coffee boom, before Starbucks, and shipped the very same delicious cookies we have now nationwide.
We met and fell in love…we were full of ideas and optimism. In 2000, the "Cookie Man" and the "Cake Lady" decided to put our dreams on the same path. We opened the Pastry Café, serving pastries, coffee, and a small menu of 5 sandwiches and 3 salads. In 2005, we expanded to take over the adjacent spot and created the Taco Lounge. And again in 2006, we expanded again to offer a full breakfast menu. Together with our five children, we have put our hearts, brains, and love into this business we call ours. We are both realizing our dreams of owning a restaurant and bakery, with love as the glue that helps us succeed.
That is the story so far…
James and Denica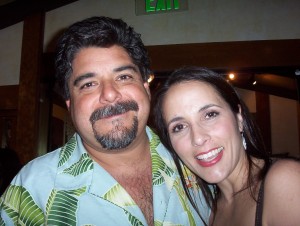 I think one of the biggest challenges for couples with children is putting themselves first.  It is a natural sacrifice to put your children first, and it is expected and approved of.  We martyr our weekends away in the pursuit of providing our kids with the best possible upbringing.  We want to create well rounded little individuals that lack for nothing.  We are creating the most perfect possible children so that they will reflect on us in the most positive way.  When I look at my kids, I fall in love with them.  They make me proud and I don't mind sacrificing for them, when the ultimate outcome will ideally be well adjusted, independent, happy, healthy adults.