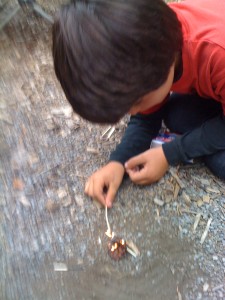 Most people don't prepare for an emergency because they don't know what to get.  One standard mantra that gets repeated often in our household is the rule of threes.  The Survival Rule of Threes is a convenient way of memorizing the order of importance for each basic survival necessity. In extreme survival situations you cannot survive more than:
3 minutes without air
3 hours without shelter
3 days without water
3 weeks without food
Survival and disaster preparedness is usually pretty much a do it yourself skill if done right.  We have a backpack and a kit for each of our cars that is stocked for emergencies.  By making an emergency survival kit you can tailor it to your own specific needs. A word to the wise- don't pilfer from the bag unless it's an emergency.  If you have spare time, take a class in emergency first aid, especially CPR training.  Our survival packs consist of:
1. First aid kit
2. Leather gloves, weatherproof
3. Water
4. Pocket knife
5. Windproof lighter and waterproof matches
6. Rain poncho
7. Military MRE (Meals Ready to Eat)
8. Wool Cap
9. Flashlight
10. Energy bars or Gu
11. Space Blanket
  The kits that are kept in our vehicles are a little more condensed, housed in a ½ liter lidded pot.  Without a pot, it is difficult to purify water by boiling it, or melt snow if you are caught in the Sierras.  Fill nooks and crannies with as much tinder as you can cram inside.  If you need a fire there is a good chance it will be during an emergency, and having warm hands and being able to see what you are doing is key.
"Artichokes … are just plain annoying … After all the trouble you go to, you get about as much actual 'food' out of eating an artichoke as you would from licking thirty or forty postage stamps. Have the shrimp cocktail instead." — Miss Piggy
I don't agree with the quote above, in fact,  artichokes are one of my absolute favorite foods!     I was recently remembering a yummy way to serve them- sweet and tangy balsamic vinegar reduced into a glaze with fresh steamed artichokes!  What could be better!
Recipe:
1) Start with 2 large artichokes, steamed until tender (I use a paring knife to pierce the heart from below to ensure they are done, some people do the leaf pull test (when the leaf detaches easily, they are done)
2) Cut the artichokes in half, and scoop out the furry blossom, leaving the heart and leaves intact and attached.
3) Pour ½ – ¾ cup good quality balsamic vinegar and 1 TBSP extra virgin olive oil into a large, nonstick sauté pan.
4) Place Artichokes cut side down in vinegar mixture
5) Cook on med-hi heat until vinegar thickens, absorbs into artichokes, and looks syrupy. (be sure to use your exhaust fan)
6) Turn Artichokes over to coat the other side, sprinkle with salt and freshly ground pepper
7) Put on platter and serve with any additional vinegar glaze poured over the top of the artichokes
8) Enjoy!!!
Thank you to all of you who sponsored our Best Buddies team.  We made it a family event, and took our 3 sons and my parents with us.  My sister, her boyfriend and her son also signed up.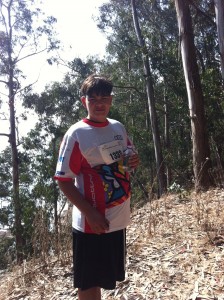 We had originally signed up to ride the 100K bike ride again this year, but with the boys coming along, it was a better family decision to change to the 3K walk that our oldest son Noah (who it was all about) could participate in.
Nick, our 14 year old, rode the 15 mile bike ride, with no training, and came in before anyone else in our group, smiling and pumped from riding hard and fast.  Our youngest, Jimmy, walked the 3K with Noah, James and I.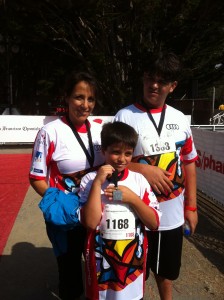 One of the highlights for Noah and Jimmy was being able to hand out the finisher's medals to the cyclists as they crossed the finish line, and I was so blessed to get a video of Noah giving his brother Nick a medal, both of them beaming.
It was the first time we, as a family, had done something for a cause, and it was a great feeling.  The boys convinced us to sign up again for next year, so we'll be there again, this time with more planning and fundraising!
…is the tough guy of the East Bay Regional Park District. There are no steam trains or petting zoos. Just steep, rugged trails, interesting geology, and fantastic views.
The primary destination at Las Trampas is Rocky Ridge and its 2,024-foot summit. Though the surrounding landscape consists of rolling hills edged by canyons with small creeks, Rocky Ridge is a spectacular sandstone wall with diagonal striations on its west face.
On top, you get spectacular views to the east of Mount Diablo and the Livermore Valley, and to the west of Crow Canyon plunging at your feet and beyond to the South Bay. The cliffs here provide nesting areas for many raptors, including red-tailed hawks, prairie falcons and the fastest creature on earth, the peregrine falcon. Another option is the side trip to what is called the "WindCaves." These are actually more like sandstone hollows. To get there from the Upper Trail (with map in hand), turn right on the Sycamore Trail and tromp a little more than a quarter-mile down to the caves. This is a fairly steep descent, though short.
The service roads are excellent for mountain biking, especially once the climb has been negotiated and you reach the Upper Trail. The land also can be trekked on game trails on foot, exploring the edge of canyons and watersheds, and free climbing and scrambling atop the ridge itself.
Perched atop the ridge, you might be lucky enough to watch the hawks and falcons at eye level, floating on the thermals, gliding with scarcely a wingbeat.
The malls will feel a million miles away.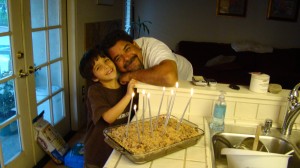 Life in our family is defined by a never ending series of surprises. This, of course, is what makes it so interesting. Ever hopeful, I still write out an ambitious To Do List each morning–though most of the time it simply involves re-copying the previous day's list.
All of these unforeseen events are not true emergencies, but many of them do require prompt attention. When several occur at once, we fall into a sort of triage mode and prioritize our actions accordingly:
1. Children
2. Business
3. Vehicles, Equipment & Everything Else that  breaks down.
Sometimes the definition of what constitutes an actual emergency can be rather subjective.  I'm sure there are those who would not consider a desperate need for chocolate cake to be a dire situation. I disagree. Sometimes–especially if you have just dealt with skinned knees, forgotten homework, temper tantrums and hunger strikes–what you really, really need is a piece of chocolate cake. And absolutely nothing else will do.
Producing a seven-layer, museum quality extravaganza complete with three types of filling and dusted with real gold is clearly not an option at this point. That would be the State-Of-The-Art Robotic Surgery Wing At The Hospital Cake. No, what you require is the First-Aid Kit Chocolate Cake: fast, easy, and immediately stops the cravings. Here is that cake.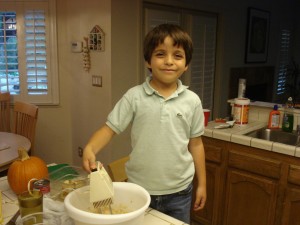 This cake is not glamorous. It does not aspire to be a Gourmet magazine covercake. Of course you could dress it up in an endless number of ways, all to delightful effect. You could serve it with fresh raspberries and a dollop of vanilla whipped cream. Or with tiny scoops of cappuccino gelato sprinkled with crushed, chocolate-covered espresso beans. Or you could add things to the batter, such as mini chocolate chips, toasted nuts, instant espresso powder, finely grated orange peel, or a splash of good dark rum.
All of these would be very nice. The point is, though, that you don't need to do any of them. The beauty of this cake is that it is absolutely delicious all by itself. It doesn't even need frosting. You bake it in a loaf pan and simply slice it into about eight thick pieces. It is soft and light and moist and offers just the right amount of sweetness and chocolate. Yesterday it took me less than 20 minutes to go from empty kitchen counter to cake in the oven–and that included licking the beaters. You can even eat it warm.
Since I am the only person in our household who suffers from Chocolate Cake Emergencies, I have never felt the need to double the recipe and make two loaves at once, but it would probably work just fine.
1/2 cup (1 stick/4 ounces) butter, softened
1 cup granulated sugar
2 eggs
1 teaspoon vanilla
1 cup all-purpose flour
1/4 cup unsweetened cocoa powder
1 teaspoon baking powder
1 teaspoon baking soda
1/2 teaspoon salt
1 cup yogurt or sour cream (or a combination)
Heat oven to 350 degrees. Grease and flour a 9″x5″ loaf pan. Cream butter and sugar until smooth, 1-2 minutes. Beat in eggs one at a time. Beat in vanilla. Add dry ingredients to creamed mixture, alternating with yogurt. Beat just until smooth. Turn batter into prepared pan and bake 35-40 minutes, or until a toothpick stuck in the center comes out clean. Do not overbake. Cool in pan. Cake may settle in the middle as it cools–this is normal.  Enjoy!
A positive thinker does not refuse to recognize the negative, he refuses to dwell on it.
Positive thinking is a form of thought which habitually looks for the best results from the worst conditions.-Norman Vincent Peale, 1898-1993 Writer and minister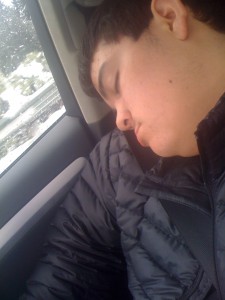 It's unhealthy and exhausting to be connected to the world 24 hours a day.  These days, with e-mail, instant messaging, cell phones and PDAs, the idea of never being away from work can be exhausting and demoralizing, not to mention inefficient.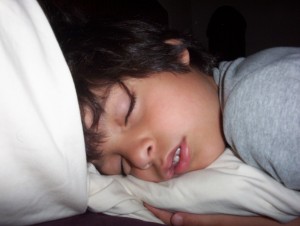 Some stress management experts say a nap can refresh the mind and body so we can get going again. Naps can also prevent that after-lunch sluggishness that can sap the rest of the day's energy if not attended to. So if you feel the need for renewal it might be time for a good old-fashioned nap.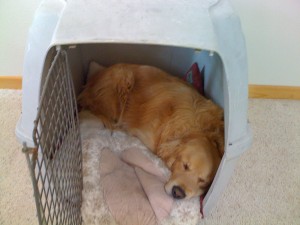 Twenty minutes is all it takes for me to get into the deep sleep that I usually wake up from with a start, and feel 100 times better.