When we opened Denica's Pastry Café 12 years ago, we thought we had an idea of what we were getting into.  I spent hours on our business plan, making up numbers and projections, maxing out every line of credit we could get our hands on.
Definitely put all of our eggs into one basket.  We just were full of confidence and ideas– everything after that was sort of vague.
As the years progressed, however, we've learned a lot about running our own business and we'd like to share some of these valuable insights with you. So with that said, here are our: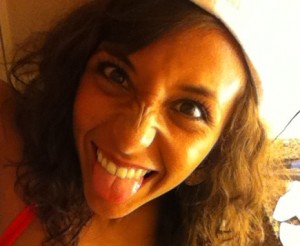 Valuable Denica's Lessons Learned
• Ouch! That grill is hot!
• No matter how many mascots you buy, they will all be too hot for any human to wear and they will all get dirty just by looking at them.
• Never buy 50,000 of anything, no matter how cheap they are. (Stickers lose their stickiness after about 3 years)
• If you decide to plan a vacation or three consecutive days off, your key staff will coincidentally need the same days off.
• Just when you thought you had it down, something changes.
• If you give your relatives free food, they'll all order steak – even the vegetarians.
• The one day that you are short staffed and low on product is the one record day of the month.
• Stay fluid, roll with it!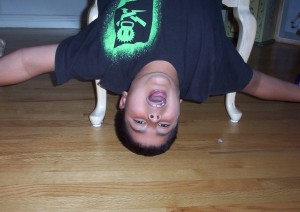 So there you have it folks, business secrets that can be applied to situations in all walks of life.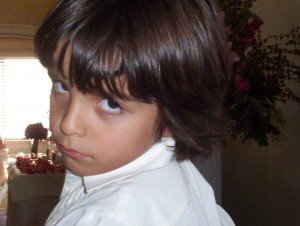 Most people spend three out of 10 days battling a foul mood. The causes of crabbiness are many, including lack of sleep and changes in hormone levels. Research has even linked chronic peevishness to too much activity in the frontal lobe of the brain. But whatever the cause, you can take steps to mitigate a bad mood:
1. If you wake up on the wrong side of the bed, chances are you'll start spilling the milk or staining your suit with jelly. Don't let this domino effect ruin your whole day. Take charge by starting over. Sit with your eyes closed for a few minutes, breathing slowly to lower your heart rate and calm your mind.
2. If you're chronically crabby in the morning, skip the coffee; instead try sipping some apple cider or herbal tea. Both apple and herbal scents increase the brain's alpha waves, providing a calming effect.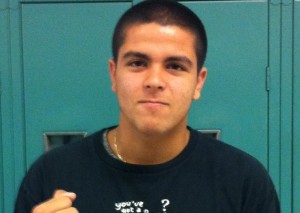 3. Get organized. Messiness on a desk or in a closet can make you even crabbier because disorganization leaves you feeling out of control. Regain your sense of control by finding something to organize.
4. Write a letter. If your boss is putting you in a bad mood, put it down on paper. Writing can slow down your thinking, help you sift through the mental chaos and sometimes helps you see the bigger picture.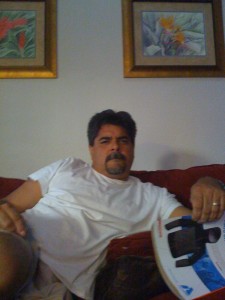 5. Flex those mental muscles by picturing yourself in a better place or distracting yourself with a line from a favorite song or poem. If you can visualize something that makes you happier, chances are your mood will lift.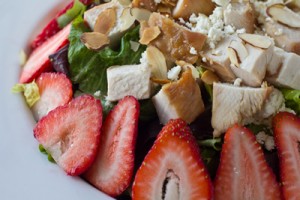 One thing we are known for is our yummy salads.  With the holidays coming up, I'd thought I'd pass on some ideas for you to use when you entertain.  A great salad, like a great dessert, can be the highlight of your meal. 
First of all, making a great salad is all about the ingredients. You must have absolutely fresh, high quality lettuce. The organic spring mix and hearts of Romaine that we use here in the Café is widely available at your local supermarket. I think salads that have several kinds of lettuce are most interesting, but that's a personal choice. The one thing I feel strongly about regarding the lettuce choice is to avoid iceberg lettuce for this type of salad. It's tasteless, has no nutritional value to speak of, and doesn't go well with this type of dressing, at least in my opinion.
Second, to have that Denica's quality taste, you must have absolutely top quality (read: expensive) extra virgin olive oil and balsamic vinegar. If you can get imported olive oil and balsamic vinegar from Italy or Spain, get it. If you don't absolutely love the flavor of the olive oil and the balsamic vinegar you have on hand, don't ever use it on a salad. Top quality balsamic vinegar and olive oil is something I always have in my cupboard.
Third, I think a great salad needs a few additions for complexity of flavor besides the oil and vinegar.   In my salads I like to include a savory, a sweet, and a crunchy addition.  It can be crumbled gorgonzola cheese, pecans, good quality olives, feta cheese, goat cheese, sliced sweet onions, edamame, marinated peppers, persimmon, pears, pomegranate seeds,  or any number of other tasty items.
This salad must be prepared right before you are going to serve it. Don't let it sit around with the dressing on it. Now, here's how to make that fantastic salad:
Denica's Salad at Home
(2 servings)
3-4 handfuls absolutely fresh salad greens, preferably a mixture of baby greens
1-2 Tbsp  of the best quality extra virgin olive oil, enough to barely coat greens
1-2 tsp. balsamic vinegar
a pinch of kosher salt and freshly ground black pepper
2-3 Tbsp of one Savory addition:
Crumbled feta cheese
Crumbled gorgonzola or blue cheese
Imported kalamata or other flavorful olives
Marinated artichoke hearts
¼ cup of one Crunchy addition:
Toasted or candied nuts (almonds, walnuts,   pecans and pinenuts are my favorites)
Pomegranate seeds
Homemade croutons or tortilla strips
Sesame, pumpkin or sunflower seeds
½ cup of one Sweet addition:
(I am partial to whatever seasonal fruit I can find)
Strawberries or raspberries
Mango chunks
Pear- ripe bosc or comice, or asian apple pears
Fuji apples
Persimmon (the hard kind)
Use a large metal bowl to toss salad, not the plates you will be serving it on. Put lettuce in bowl, drizzle over the olive oil and toss. If lettuce is not all coated with oil, add a tiny bit more oil and toss again. Drizzle over small amount balsamic vinegar (I put my thumb over the end of the bottle so I don't get too much), toss again. Taste a piece of lettuce to see if there is enough vinegar, and add more if needed.  Carefully toss in your additions, and season salad with pepper and arrange on two serving plates.  Enjoy your salad!
     When James and I were dating, he took me on so many adventures.  I was the city girl without any North Face gear, just fashionable shoes and designer jeans.  I didn't even know how much I would fall in love with the outdoors and with my sweetheart when we went to Calf Creek.
     We flew into Las Vegas with a giant yellow North Face bag full of gear, rented a car, and drove north to Calf Creek, Utah, located between Boulder and Escalante.  This is a treasure of a spot that I can't believe James found.
     The area consists of only about 15 sites, very rustic with no showers.  It is definitely a roughin' it spot, no RV's, just old fashioned tent camping.  We were there in April and camped right along the creek.  We woke up to icicles inside our tent!  During the day it is nice and hot, perfect for exploring the oasis that is Calf Creek. The creek runs through a canyon that is made of sandstone, with areas that you can climb up and explore.  The Native Americans lived among the cliffs up on these walls, and there are still pictographs on the walls.
     We took the 2 ½ mile hike up to Calf Creek Falls, not an extremely steep hike, but a little strenuous nonetheless.  We packed in a lunch, fishing pole (James caught some decent sized German brown trout), and a couple of chairs, as well as our bathing suits for the pool at the falls.  The arrival at the 65 ft. falls is breathtaking, with the mineral streaked sandstone tinted shades of green, blue and turquoise.  The water of course is absolutely frigid, but feels oh so good after the hot hike to the falls.
     I would stay at least 3 days to explore this secret spot.  I can't wait to go again!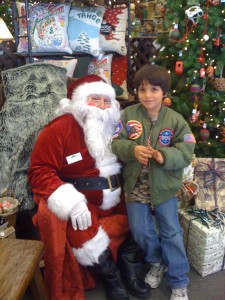 Did you know…That gift cards are the third most requested gift on a person's list, right behind money and jewelry?  Neither did I – I thought they'd be at least number 2. When did it become appropriate to ask for cash? ("This year I want 100 smackers instead of another sweater vest.  Got it, Grandma?")
Anyway, if you're looking for something to give this holiday season, why not give your loved ones their #3 choice – a Denica's Gift Certificate!  What's not to like? In fact, it's the perfect gift for all occasions. Just look at the many ways you can use your gift certificate:
• Tip your way to better service. Tip the garbage men! Tip the babysitter! Tip the cosmetic surgeon! (This one is key.) Tip your neighbor! Tip your children! Tip your 57-year-old paperboy!
• Thank all your fabulous employees with a Denica's Gift Certificate.  And go ahead; give them a bonus, too. They deserve it.
• Bribe your way to A's! Give all your teachers Denica's Gift Certificates and watch the good grades flow. Or get suspended. One of the two.
• Buy a Denica's Gift Certificate for yourself. Just because it's a "Gift Certificate" doesn't mean it has to be a gift for someone else. (That's a touching holiday sentiment, isn't it?)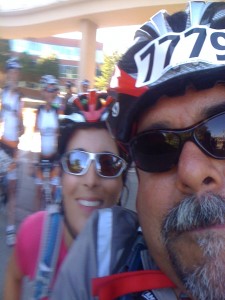 It has been said that where ever your relationship is going, tandems will get you there faster.  The speeds that we have reached, upwards of 30 miles per hour, have me in the back closing my eyes and praying that we don't hit a pothole, and the time riding together has enabled us to have that elusive alone time to talk and be together.
 We have owned a bike built for two for a couple of years, and life has often gotten in the way of our motivation to get out there together and ride.  Thanks to the many cyclists who come into the café, and the inspiration of the conversations I have had with them, we signed up for what was for us a pretty extreme challenge as far as fitness and endurance goes.
 200 miles on a bike.  Together.  Point A:Seattle, to point B:Portland.  With no possibility of giving up and getting a ride.  Now this is not much to your average fitness cyclist, but for us, newbies, it was a huge feat!  The training was only part of the fun, there was also entailed in this ride the logistical nightmare of getting our car, bike and luggage to the start line, and as well to have it all waiting for us at the finish.  We had never been on an organized ride, and the experience we had riding with other people was limited to dodging 10 year olds or groups of teenagers on the Iron Horse Trail.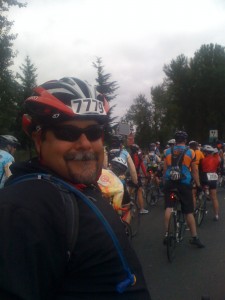 We managed to train pretty consistently for 3 months, though we avoided hills like we were allergic to them, and stuck with long slow miles.
Thursday before the race, we were loaded up in our suburban, kids dropped off at Grandma's, healthy snacks packed for the road (no fake food for us!) and off we went.
It was a 9 hour drive to Portland, and even though we tried to find a motel to stop at midway, amazingly everything was booked solid.  Who would have thought?  We powered on to Portland, where we found a room at the one hotel in town that was still available.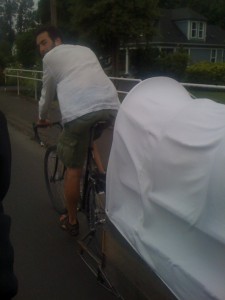 In Portland we dropped our car at the hotel we would be staying at on Sunday night, rented a van, and completed our journey to Seattle.  We spent a day exploring Seattle, tasting lots of good food at Pikes Place Market and the surrounding bakeries. (Yum! – I'm a sucker for baked goods!)
Rather than lose you here with the boring details of the ride, we have summed up our highlights:
Woke up every 8 minutes throughout the night, until finally crashing into a deep sleep at 4:35 am
Up at 5 am, forced down some coffee and a banana, gear on, Body Glided up, preemptive ibuprofen popped, prayers offered up.
Wish I had a photo of us riding our bike with our gigantic backpacks on our backs to the start line; imagine giant tortoises on a bicycle built for two.
Beautiful quiet morning ride around Lake Washington.
Starbucks for a muffin, nauseous regret for eating that muffin.
Gross underestimation what "rolling hills" were, as we struggled up the big one outside Tacoma.
Washington residents near Tacoma do not welcome this disruption, evidenced by trucks speeding by with roaring engines, rude honks and offensive gestures sent our way.
Best free food:  Homemade banana bread handed out at the top of one of those rolling hills.
Best meal:  Taco stand somewhere in the south of Washington, these lucky guys having the busiest day of their catering lives as 100's of cyclists bypassed the long lines of "free food" provided by the ride for those yummy tacos!
Comical sight:  guy in sandals towing a covered wagon
Epic moment of beauty:  Riding over wooden bridge near a river, hearing the clickety click of the tires going over the boards.
Epic moment of discouragement:  riding over the Lewis and Clark bridge, a long slow burn of an uphill that pretty much killed our buzz, as we were passed by everyone except the old guy in the recumbent.
Incredible sense of "are we there yet syndrome" for the last 40 miles.
Cruel joke:  last minute reroute to include the steepest hill of the ride and at least 20 stop lights for the last brutal 10 miles of the ride.
Hardest accomplishment of our lives, second only to building the restaurant.  Would we do it again?  Uh, yes, entries go on sale January 4th…we already booked our hotels…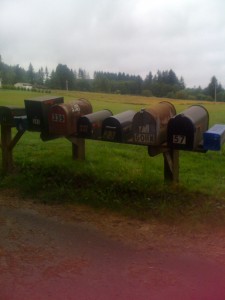 Love is composed of a single soul inhabiting two bodies. – Aristotle