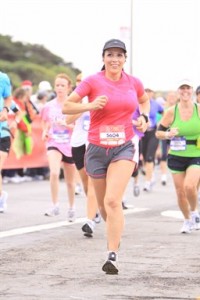 I can't believe I did it! At least 3 days worth of nervous energy and anxiety and loss of sleep…I finished my first 13.1 mile race!
We got the kids up before 6 am to make the drive to San Jose for the race.  I powered down a pre-run breakfast at home to let my stomach settle on the drive.   I stuck with my usual bowl of oatmeal with a banana, and one cup of coffee with skim milk. I gave my legs a good stretch-n-roll-out, put on my spanking new race ensemble and tried to relax.  We made good time, getting to San Jose by 6:45 and wondering what to do next.
The race didn't start until 8, and we were a good hour early.  As soon as it started getting light, I decided to walk over to the start area and check it out, there were quite a few runners milling around, but no one I knew, so I went back to the car to warm up. I finally convinced the kids and James to walk with me to the start. LOTS of time to kill.
When you sign up for the race, they ask you what you think your finishing time will be, and assign you to a "Corral" in order to stagger the masses of 10,000 people trying to get across the start line. We were all crowded together in this cyclone area, nervously giggling or stretching for at least 10 minutes… Countdown to start and… HORN BLOWS!  We're off!  Well…not off, at all.
In fact, we're standing still but my watch timer is ticking away the seconds. Soon, I notice heads bouncing a few hundred feet ahead of us. Not moving, mind you, just bouncing like at a big rock concert. Soon, the wave of bounce is upon me and I start to bounce, too. Watching the bounce come towards me was pretty thrilling, I have to say. So, bouncey-bounce…not moving, of course, just bouncing. Finally, we bounce-bounce our way over what I assume is the start line- about two minutes after the horn sounded.
I was so excited and felt a welling up of tears as I crossed the start line, I am such a sap! I have only raced 3 times, and it hits me the same every time! Something about the sea of people and the noise just gets to me!
Slowly, the crowd breaks up some and I'm running at an OK pace. The crowds served to keep me in check, as otherwise I can totally see how I would have gone way too fast out of the gate.
For the first ¾ of the race I am feeling good. Then I realize, this is harder than I thought!   I began my self talk "Its all about training and pace, you have the training, just keep the pace" over and over and over…
I hear guy running behind me saying "Okay, one mile to go, lets do this!"  and determined, I see cones about 400 meters ahead of me, people are cheering, I sprint!! Sprint all the way to…just some dude standing there near a cone with an orange flag. You've got to be kidding me! I say (out loud- sorry, everyone.) Come around a turn and, there it is! A line of cones and people walking beyond. The finish! I sprint again and then… no, that's not a line of cones, it's a turn in the road and people aren't walking, just running a different way.
I think there were three sprints to the finish before the one that actually resulted in the finish. I saw my husband standing by the side of the road with the video camera, so put on a real gazelle-like stride to the end, tried to smile at the camera at the finish line, crossing at 2 hours, 2 minutes and 49 seconds.  Not too bad for a girl who couldn't even run a mile last year this time.
I was surprised how wobbly, foggy and disoriented I felt after the run, and most of the day, though not in a bad way, just not able to make major life decisions, like whether I wanted vanilla or blueberry yogurt.
I loaded up with the after race goodies, then set out to find my family, upon which they promptly gobbled up all the food, with the exception of a banana. Boys, always hungry!
Lessons Learned:
– I realize how much I was really hoping finish this race in less than 2 hours, easy.  Apparently, there are dues to be paid with this whole running thing, but at least now I have a personal record to beat!
– I am not good at spotting my husband in a crowd. Whoever the guy was on the left about 800 yards from the finish, please send a video of my awesome gazelle-like sprint to the finish. My husband and boys were  further down by the final approach, and I saw them in just enough time to veer over and hi-5 them.
– It was a great experience, a fun race, and I can't wait to do another one!
In other words- there is much to be thankful for!
In ancient Greece, Pheideppides in 490 BC ran 26 miles from Marathon to Athens to announce the victory of Greece over Persia. When he arrived in Athens and announced "We have won," he then died on the spot. Of course it is believed he ran 150 miles in 2 days prior to this to gather troops in Sparta and he likely was wearing battle armor and not the latest wicking clothing and I am sure he had leather sandals on, not Asics.
If you are anything like us, you lead a very busy life, too busy in many ways.  We juggle work,  kids, exercise, romance, bills, sports, grocery shopping, housework, the list goes on.  I am at the point in my life where I am trying to balance it all out.  For me it begins at work.  I have come to realize that just because I am busy, it doesn't mean I have accomplished much.
     Being busy for some of us is just a bad habit. We put in a lot of time and effort, secretly hoping that at the end of the day, something important has gotten done. If you were to really analyze it, though, about the only thing that usually happens after being busy all day is that you suddenly realize that you have just been busy all day.
     I see this tendency in myself … big time. Here is what struck me as a solution:
Before I head home each night, I make a short list of what must absolutely be accomplished tomorrow. The shorter the list, the better. Three is about the max. If there are more than three things on the list, I delegate specific tasks to others. In the end, the items on the personal list should be things that only I can do.
I have a tendency to also take one or two tasks home with me, which does not let me relax at home.  Big no-no.  I do not let myself move on with the day until my tasks are done, even the boring ones.
When I arrive at work the next morning, I focus all of my time and energy on the one, two or three tasks on my list until they are done. I do not take phone calls, check e-mail or sometimes even let anyone know I have arrived at work. I start with my least favorite task, get it done, and then move on.  Then I make my list for the next day.
     Then I am free to do whatever I want for the rest of the day with a clear conscience and no time pressure. I might want to coach my staff, socialize with our guests or go to our kid's magic show– whatever gives me pleasure. It is hard sometimes to resist the urge to keep working on "stuff" just because there is still stuff to work on, but I know that there will always be stuff to work on.  Slow down. Un-busy your mind. Give yourself quiet time.  My best ideas and inspirations arrive when all is quiet, when I am at the park with my kids, or even just driving home.
     Read something new. Work out. Go home early and have dinner with your family. In short, have a life.  If you can complete 1-3 essential tasks a day, my bet is that you will be far more productive and expend far less energy in the process.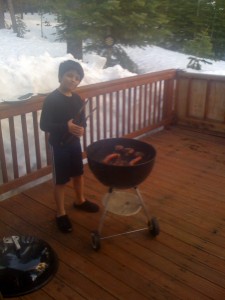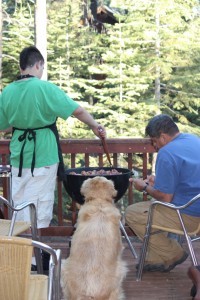 I was sad to discover that grilling with propane is healthier than grilling with charcoal.  We have recently rediscovered our love for good old briquettes and the flavor they give food when cooking over them.  So alas, it is time to shop for a new propane unit, as our old one has died from excessive use and has been overhauled two times too many.
The reason that charcoal is bad for us is that two carcinogens are created when meat is grilled- PAH and HCA.  PAH results when meat absorbs smoke, and HCA are found in the char when mats are overcooked.
Man! I love that charring!  Dad, I guess you were right.  I am sorry I didn't believe you, but it seemed that growing up you blamed too many things with being the cause of cancer.  All the yummy things that kids like, hot dogs, red dye in those candies and cherries…Plus the no sugar as first or second ingredient rule in cereal…fruits and veggies only after 4 o'clock…but I digress.
Dad was right.  Charcoal produced more smoke than propane as well as higher heat, resulting in more carcinogens in grilled meats.  Solution:  Whenever possible, grill with propane.  Trim fat from meats, then marinate in vinegar or lemon juice,  Leaner meats create fewer drippings, which reduced smoke, and marinating in vinegar or lemon juice reduces the HCS by up to 90%.
By the way, thank you Dad, for instilling in me the knowledge of healthy eating.  You are my hero, still going strong, your batteries like the energizer bunny commercial.  I model my self after you, never stop moving!
This is one of my absolute favorite pastas.  I love any dish that gives me the chance to have artichokes!
1 9 oz. Package frozen artichoke quarters
4 tbsp. Olive oil, extra virgin
4 oz. Sliced mushrooms
6 large cloves garlic, crushed or minced
1 med. Shallot, minced
2 cups heavy cream
1 lb. Fresh or dried linguine
salt and pepper to taste
½ cup freshly grated Parmesan cheese (plus more for the table)
¼ cup minced fresh parsley
½ cup toasted slivered almonds
1. Cook frozen artichoke hearts by simmering in salted water for 5-7 minutes, until tender.  Drain and set aside.
2. Heat the olive oil in a sauté pan over medium high heat.  Add mushrooms, salt and pepper and sauté until tender, about 3 minutes.  Add the shallots and garlic and continue cooking another 3–4 minutes until shallots are wilted and mushrooms are lightly browned.  Remove to a bowl and set aside.
3. Heat the heavy cream in a shallow sauté pan, reducing slightly to thicken.  Season to taste with salt a pepper.
4. Bring a large pot of salted water to boil and cook pasta until al dente, according to package directions.  Drain pasta.
5. Add artichokes and mushroom mixture to the heavy cream.  Toss lightly into pasta along with the Parmesan cheese, parsley and almonds.  Serve immediately with a generous bowl of additional Parmesan cheese for garnish.
Serves 4 as a main dish or 6 as a side dish serving.
This is SOOO yummy and comforting, even the kids loved it.
Broccoli Mac and Cheese Gratin
4 cups uncooked medium seashell pasta (about 12 ounces)
6 cups broccoli florets (about 1 pound)
1 tablespoon olive oil, divided
2 garlic cloves, minced
1/3 cup finely chopped onion
3 3/4 cups 1% low-fat milk, divided
1/3 cup all-purpose flour
1 cup grated fontina cheese
1/2 cup freshly grated Parmesan cheese
1 1/4 teaspoons salt
1/4 teaspoon freshly ground black pepper
1/8 teaspoon ground cayenne
Dash of ground nutmeg
Cooking spray
2 (1-ounce) slices French or sourdough bread
Preheat oven to 400°.
Cook pasta in boiling water 8 minutes; add broccoli. Cook 3 minutes or until pasta is done. Drain.
Heat 2 teaspoons oil in a Dutch oven over medium heat. Add garlic to pan; cook 45 seconds. Transfer garlic mixture to a small bowl; set aside.
Add remaining 1-teaspoon oil to pan; stir in onion. Cook 1 minute, stirring frequently. Remove from heat; stir in 3 cups milk. Lightly spoon flour into a dry measuring cup; level with a knife. Combine the remaining 3/4 cup milk and flour in a small bowl, stirring with a whisk. Add flour mixture to onion mixture. Return pan to medium-high heat, stirring constantly with a whisk; bring to a boil. Cook 1 minute or until thick, stirring constantly with a whisk. Remove from heat; stir in the cheeses, salt, black pepper, red pepper, and nutmeg. Add pasta mixture to milk mixture, tossing gently to coat. Pour mixture into a 13 x 9-inch baking dish coated with cooking spray.
Combine garlic mixture and bread in a food processor; pulse 15 times or until fine crumbs measure 1 cup. Sprinkle breadcrumb mixture over pasta mixture. Bake at 400° for 18 minutes or until the top is brown.
As you know, we have 3 boys, and most of our outings are aimed at their enjoyment.  On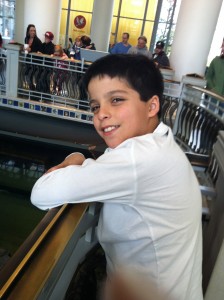 the 4th of July we took a much anticipated trip out to Alameda to visit the USS Hornet.
There was live music, food and games for the kids, as well as a flight simulator ride and a tour below deck.  The USS Hornet is an aircraft carrier that has seen a lot of action, and we really enjoyed the tour.  They had a dozen or so planes and helicopters on display, including one that was flown in the movie Top Gun.  The highlight for the boys was sitting in the captain's chair when we reached the top deck.
They have a lot of different functions throughout the year, including a Halloween Bash, behind the scene flashlight tours, and even family sleepovers.  We bought the family membership which allows us to go back as many times as we want throughout the year, and free admittance to next year's Independence Day Party.
If you have boys this is definitely a must do outing!