What's New at Denica's-Breakfast!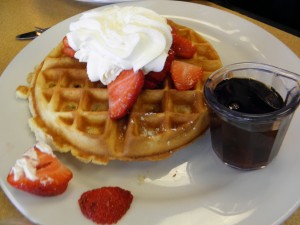 We just can't sit still, and with our evolution comes growth.  Our newest adventure is breakfast.  Some of our original guests and friends remember that we used to serve breakfast on the weekends for a brief time when we first opened.  We have brought it back with a vengeance!
Our menu consists of carefully selected favorites from our personal recipes, from our family's favorite Belgian Waffles, to signature omelettes designed by James and myself.  We went to food shows and sampled over 20 different kinds of bacon before selecting the the perfect one, a thick sliced, Patuxnet brand bacon that cooks up nice and crisp, but not crumbly.
We also offer Saggs sausages and Black Forest Ham, superior quality German immigrant produced meats that we have used for years in our Bird Dog pastries and our famous Ham and Cheese Croissants.
The breakfast burritos have been a big hit, with the Huevos Rancheros, real Buttermilk Pancakes and Bacon, Egg and Cheese sandwiches following close behind.
Get outside for at least 15 minutes and just breath and listen.
**********************
Pay for the car in back of you on any bridge you cross.