You Wanted to Know…
Well here we are, our first issue!  We are devoting this issue to telling you about us, who we are, where we have been, where we are going…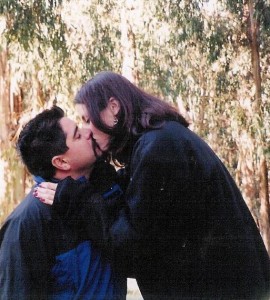 I am Denica, most of you know me, and if you don't, you certainly know my husband, James.  We are partners in life, love, and in this creation of ours, an ever evolving and deliciously developing restaurant and bakery.  All my life, I have dreamed of owning a pastry shop.
My love of baking began as a youngster when I graduated from the easy-bake oven to    making up my own recipes for oatmeal raisin cookies.  Being shy, with a love of reading and baking, I began collecting cookbooks and cooking magazines.  I would read them cover to cover and dream of the yummy, pretty things I would have in my bakery.
As I reached adulthood, I realized the power of my talent, and decided to pursue my dream.  I attended the Pastry Program at the California Culinary Academy in San Francisco, and went on to open a successful specialty cake business called "Cakes by Denica".
My husband, James, has worked in the food industry his whole life, and also has a longtime love of cooking.  He  owned and operated the unique "Cookie Express" in Castro Valley for 12 years.  He was at the cutting edge of the coffee boom, before Starbucks, and shipped the very same delicious cookies we have now nationwide.
In 2000, the "Cookie Man" and the "Cake Lady", having fallen in love, decided to put our dreams on the same path.  We opened what is now the Pastry Café, serving pastries, coffee, and a small menu of 5 sandwiches and 3 salads.   Together with our 5 children, we have put our hearts, brains, and love into this business we call ours.