Not Denica's Oatmeal Cookie Recipe, but oh so good!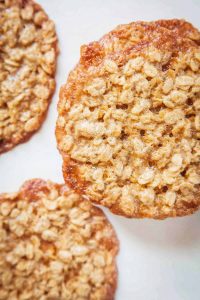 This is one of my favorite, go-to recipes to make at home!  Crispy and chewy and thin, not like what we serve at Denica's Restaurants, but rather late night snacks for us at home!
3/4 pound salted butter (Challenge is our preferred brand)
1 cup packed golden brown sugar
1 1/8 cup granulated sugar  (1/8 cup is equal to 2 TBSP)
1 large egg
2 teaspoons vanilla extract
3 cups rolled oats (not instant)
1 1/2 cups all-purpose flour
3/4 teaspoon kosher salt
2 1/2 teaspoons baking soda
Optional:  Smash some chocolate chips on top before baking (yumm!)
Preheat the oven to 350 degrees F.
In a mixer, cream the butter until soft. Add the sugars, and cream together until light and fluffy. Add the egg and vanilla and mix well.
In a bowl, stir together the oats, flour, salt, and baking soda. Mixing, slowly add the oat mixture to the butter mixture and mix just until combined.
Drop by tablespoonfuls onto the baking sheets, leaving at least 2-inches between cookies. Bake until browned and crispy around the edges, about 8 to 12 minutes. Let cool on trays to continue crisping them up.  Eat immediately, or if you can't then put them in an airtight container.
I like to mix a big batch and scoop them out with a small ice cream scooper, and keep some unbaked dough balls in the freezer for those emergency "I need something sweet!" moments. They can go right from freezer to preheated oven, just allow a couple extra minutes.  I always bake by smell and look, rarely by time~