Recipe of the Month: Emergency Chocolate Cake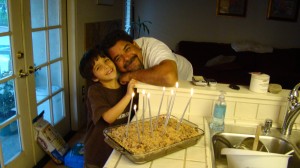 Life in our family is defined by a never ending series of surprises. This, of course, is what makes it so interesting. Ever hopeful, I still write out an ambitious To Do List each morning–though most of the time it simply involves re-copying the previous day's list.
All of these unforeseen events are not true emergencies, but many of them do require prompt attention. When several occur at once, we fall into a sort of triage mode and prioritize our actions accordingly:
1. Children
2. Business
3. Vehicles, Equipment & Everything Else that  breaks down.
Sometimes the definition of what constitutes an actual emergency can be rather subjective.  I'm sure there are those who would not consider a desperate need for chocolate cake to be a dire situation. I disagree. Sometimes–especially if you have just dealt with skinned knees, forgotten homework, temper tantrums and hunger strikes–what you really, really need is a piece of chocolate cake. And absolutely nothing else will do.
Producing a seven-layer, museum quality extravaganza complete with three types of filling and dusted with real gold is clearly not an option at this point. That would be the State-Of-The-Art Robotic Surgery Wing At The Hospital Cake. No, what you require is the First-Aid Kit Chocolate Cake: fast, easy, and immediately stops the cravings. Here is that cake.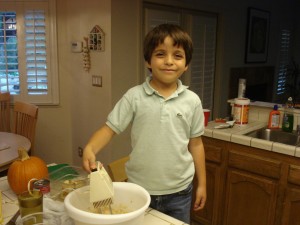 This cake is not glamorous. It does not aspire to be a Gourmet magazine covercake. Of course you could dress it up in an endless number of ways, all to delightful effect. You could serve it with fresh raspberries and a dollop of vanilla whipped cream. Or with tiny scoops of cappuccino gelato sprinkled with crushed, chocolate-covered espresso beans. Or you could add things to the batter, such as mini chocolate chips, toasted nuts, instant espresso powder, finely grated orange peel, or a splash of good dark rum.
All of these would be very nice. The point is, though, that you don't need to do any of them. The beauty of this cake is that it is absolutely delicious all by itself. It doesn't even need frosting. You bake it in a loaf pan and simply slice it into about eight thick pieces. It is soft and light and moist and offers just the right amount of sweetness and chocolate. Yesterday it took me less than 20 minutes to go from empty kitchen counter to cake in the oven–and that included licking the beaters. You can even eat it warm.
Since I am the only person in our household who suffers from Chocolate Cake Emergencies, I have never felt the need to double the recipe and make two loaves at once, but it would probably work just fine.
1/2 cup (1 stick/4 ounces) butter, softened
1 cup granulated sugar
2 eggs
1 teaspoon vanilla
1 cup all-purpose flour
1/4 cup unsweetened cocoa powder
1 teaspoon baking powder
1 teaspoon baking soda
1/2 teaspoon salt
1 cup yogurt or sour cream (or a combination)
Heat oven to 350 degrees. Grease and flour a 9″x5″ loaf pan. Cream butter and sugar until smooth, 1-2 minutes. Beat in eggs one at a time. Beat in vanilla. Add dry ingredients to creamed mixture, alternating with yogurt. Beat just until smooth. Turn batter into prepared pan and bake 35-40 minutes, or until a toothpick stuck in the center comes out clean. Do not overbake. Cool in pan. Cake may settle in the middle as it cools–this is normal.  Enjoy!
A positive thinker does not refuse to recognize the negative, he refuses to dwell on it.
Positive thinking is a form of thought which habitually looks for the best results from the worst conditions.-Norman Vincent Peale, 1898-1993 Writer and minister