Recipe of the Month: Oven Fried Chicken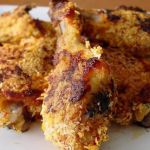 The secret to this chicken is to place the chicken on a large rack over a sheet pan so the chicken sits above the pan and is heated from all sides.
1 chicken, cut into serving pieces
1 ½ cups whole milk
1 TBSP Tabasco sauce
1 TBSP soy sauce
½ cup corn flake crumbs
¼ cup all purpose flour
1 tsp salt
½ tsp freshly ground pepper
½ cup melted butter
½ cup water
Place the chicken in a shallow dish.  Combine milk, Tabasco, and soy sauce and pour over chicken.  Cover and refrigerate at least 3 hours or overnight.
Preheat oven to 375.
Mix dry ingredients together in a shallow bowl.
Remove chicken from marinade, and dip both sides into seasoning mixture.  Place chicken pieces on greased, prepared rack, skin side down.  Place in oven and bake for 10 minutes.  Meanwhile, mix melted butter and warm water.  Baste chicken with this mixture and any pan juices every 5 minutes.  Bake until juices run clear and chicken is golden brown, about 30-45 minutes more.
This chicken is moist, delicious, and a family favorite!