Recipe of the Month: Pecan Cranberry Salad
The holidays were never complete when I was a kid without some kind of Jello mold…although that seems dated and retro, I can't seem to break that tradition! This one is my son Nick's favorite-it's perfect for Thanksgiving!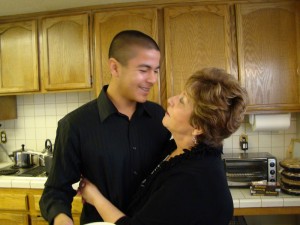 Pecan Cranberry Salad
1 (15 oz) can crushed pineapple, drained, 1 cup pineapple juice reserved
1 cup water
1 (3 oz) package orange gelatin
1 (3 0z) package cherry gelatin
1 (16 oz) can whole berry cranberry sauce
1 (6 oz) can frozen orange juice concentrate
1 cup chopped pecans or walnuts
Spray a 6 cup mold with nonstick cooking spray.
Combine reserved pineapple juice and water and bring to a boil.  Pour hot juice mixture into a large bowl, add gelatins, and stir until dissolved.  Add drained pineapple, cranberry sauce, orange juice concentrate, and nuts.  Mix well.  Pour into mold and refrigerate until firm.