Tour De Palm Springs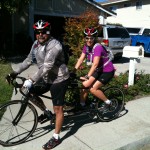 A long time customer tipped us off to this beautiful 56 mile bike ride, and I am so glad we signed up! After a busy winter at the restaurant, we were so ready to get out of town, and this bike ride was the perfect excuse to enjoy not only some exercise, but some much needed Mommy and Daddy time.  I feel less guilty leaving the kids when I know I am also doing something to benefit my health!
 I had never been to Palm Springs, and was surprisingly enchanted by the retro little town with flashy restaurants and 60's era hotels.  I am still dreaming of the wonderfully decadent and delicious cannelloni that I had two nights in a row at a little trattoria on the main street…
          Highlights:
Ben and Jerry's Ice Cream Shop
Gondola ride up 8500 ft in 10 minutes to the top of the mountain, taking us from desert to high sierra in minutes!
Water aerobics being performed at6 amin the pool below our room to the tune of Austin Powers
Super windy bike ride through the desert.
Not getting blown over by the 30 mph winds
Sandblasted left ear from the sandstorm
The oasis in the middle of desolate desert that we rode past
Delicious dinner out with new friends
Spending time with my hubby-the journey there and home!
We are so blessed to have family nearby that is always willing to help us out with our kids.  It is important to us as a couple and business partners to get away from work and home every so often.  We always come back full of ideas on how to improve our service or the menu.