What's Going On… It Takes Two to Tandem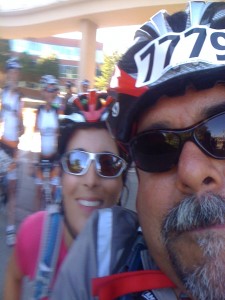 It has been said that where ever your relationship is going, tandems will get you there faster.  The speeds that we have reached, upwards of 30 miles per hour, have me in the back closing my eyes and praying that we don't hit a pothole, and the time riding together has enabled us to have that elusive alone time to talk and be together.
 We have owned a bike built for two for a couple of years, and life has often gotten in the way of our motivation to get out there together and ride.  Thanks to the many cyclists who come into the café, and the inspiration of the conversations I have had with them, we signed up for what was for us a pretty extreme challenge as far as fitness and endurance goes.
 200 miles on a bike.  Together.  Point A:Seattle, to point B:Portland.  With no possibility of giving up and getting a ride.  Now this is not much to your average fitness cyclist, but for us, newbies, it was a huge feat!  The training was only part of the fun, there was also entailed in this ride the logistical nightmare of getting our car, bike and luggage to the start line, and as well to have it all waiting for us at the finish.  We had never been on an organized ride, and the experience we had riding with other people was limited to dodging 10 year olds or groups of teenagers on the Iron Horse Trail.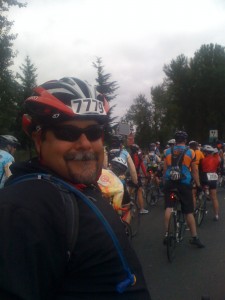 We managed to train pretty consistently for 3 months, though we avoided hills like we were allergic to them, and stuck with long slow miles.
Thursday before the race, we were loaded up in our suburban, kids dropped off at Grandma's, healthy snacks packed for the road (no fake food for us!) and off we went.
It was a 9 hour drive to Portland, and even though we tried to find a motel to stop at midway, amazingly everything was booked solid.  Who would have thought?  We powered on to Portland, where we found a room at the one hotel in town that was still available.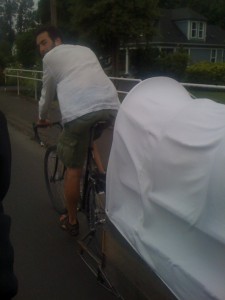 In Portland we dropped our car at the hotel we would be staying at on Sunday night, rented a van, and completed our journey to Seattle.  We spent a day exploring Seattle, tasting lots of good food at Pikes Place Market and the surrounding bakeries. (Yum! – I'm a sucker for baked goods!)
Rather than lose you here with the boring details of the ride, we have summed up our highlights:
Woke up every 8 minutes throughout the night, until finally crashing into a deep sleep at 4:35 am
Up at 5 am, forced down some coffee and a banana, gear on, Body Glided up, preemptive ibuprofen popped, prayers offered up.
Wish I had a photo of us riding our bike with our gigantic backpacks on our backs to the start line; imagine giant tortoises on a bicycle built for two.
Beautiful quiet morning ride around Lake Washington.
Starbucks for a muffin, nauseous regret for eating that muffin.
Gross underestimation what "rolling hills" were, as we struggled up the big one outside Tacoma.
Washington residents near Tacoma do not welcome this disruption, evidenced by trucks speeding by with roaring engines, rude honks and offensive gestures sent our way.
Best free food:  Homemade banana bread handed out at the top of one of those rolling hills.
Best meal:  Taco stand somewhere in the south of Washington, these lucky guys having the busiest day of their catering lives as 100's of cyclists bypassed the long lines of "free food" provided by the ride for those yummy tacos!
Comical sight:  guy in sandals towing a covered wagon
Epic moment of beauty:  Riding over wooden bridge near a river, hearing the clickety click of the tires going over the boards.
Epic moment of discouragement:  riding over the Lewis and Clark bridge, a long slow burn of an uphill that pretty much killed our buzz, as we were passed by everyone except the old guy in the recumbent.
Incredible sense of "are we there yet syndrome" for the last 40 miles.
Cruel joke:  last minute reroute to include the steepest hill of the ride and at least 20 stop lights for the last brutal 10 miles of the ride.
Hardest accomplishment of our lives, second only to building the restaurant.  Would we do it again?  Uh, yes, entries go on sale January 4th…we already booked our hotels…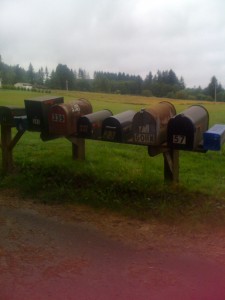 Love is composed of a single soul inhabiting two bodies. – Aristotle