Who knew a Havanese would steal our hearts!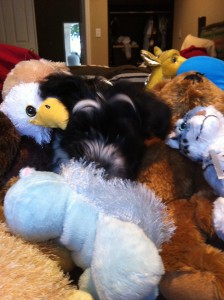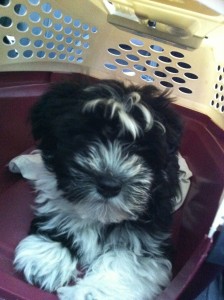 We are truly guilty of being those people.  You know the ones, they are crazy about their dog, and treat it like a human.  I used to do the same but inside feel kindof ridiculous.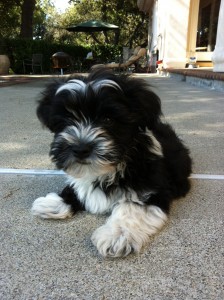 When I would go to my mom's and she said "Say Hi to my baby Luna" (her dog!) I would humor her and greet the dog as if she were a person, while inside chuckling at the absurdity of it.  Don't get me wrong, I LOVE dogs, and have had 1 to 2 dogs my entire life.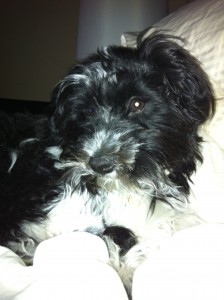 Until we met Lucky.  We were a content household of 2 adults, 3 young men, one mellow golden retriever named Buddy,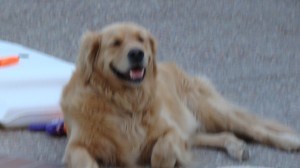 and one cranky yorkshire terrier named Chiquita.

We had considered adding another dog to our pack for a while, and when we saw the Havanese on Tosh.O of all places (guilty pleasure TV), we were hooked.  Researching extensively online as I tend to do, everything I read about this breed  made me want one more!  James saw a picture of this little guy on the breeders website and said "That's my dog!"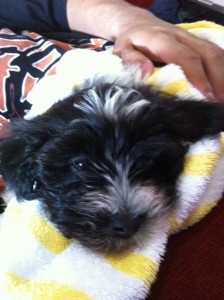 They are called VELCRO DOGS!  I yearned for a lap dog – my golden retriever would have been happy to oblige, but his hairy shedding 150 lb body was just not conducive to sitting on me on the couch.  Now what about the Yorkie you say?  Well Chiquita has a mind of her own.  She is independent and likes it that way.  She will let you pet her, but on her terms.  She will make you come to her,  and when you bend down to pet her, she will roll onto her back, staying just out of your reach most of the time.  I will not even venture to figure her out.  Maybe in another life she was a human, and resents being a dog.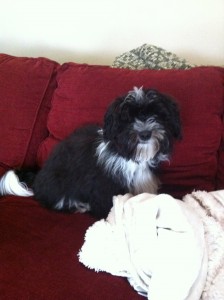 Lucky is the sweetest little dog I have ever owned, and I have had a few.  He perches on the back of the couch right on James's neck for his naps, and follows us all around the house.   His routine in the morning is that he loves mama, he jumps up with all four feet off the ground and nibbles at my sleeve, wanting me to pick him up, just like our kids used to do when they were little.  We have even trained him to jump up into our arms!   We love that little guy!